Building the Perfect Rainbow Swing Set – Part 3

Customizing Your Swing Set
Buying a swing set can be an overwhelming task – with so many styles, sizes, and customization options, where do you start? Here at Rainbow Play Systems, we offer a step-by-step process to help create swing sets families love for many years to come!
This is the third part of a three part series, exploring the process that goes into building the right swing set for your backyard and family!
If you missed them ….
Check out Part 1: Choosing the Swing Set Style
Check out Part 2: Choosing the Swing Set Size 
What Options are Available for Customization?
Now that you have chosen your swing set style and size, it's time to customize your Rainbow swing set! With so many options to choose from – finding the best place to start can be a challenge! Determine what package swing set most fits your family's needs, and customize from there!

Our Packaging System
For years, families have customized Rainbow Swing Sets to best fit their family needs. The streamlined Package system shows how big add-ons and features stack up on each swing set:
· Pkg I – Swing Set Base
· Pkg II – Add Swing Beam
· Pkg III – Add Monkey Bars
· Pkg IV – Add Penthouse
· Pkg V – Add Slide from Penthouse
Customizing with Universal Options
Universal accessories are available for every swing set. They include fun and unique experiences for kids of all ages. The Tic-Tac-Toe panel or the Corkscrew Climber can make a wonderful addition to a playset.

Customizing with Style Specific Accessories
A Rainbow Swing Set style comes as either a Castle or Clubhouse.
Castle swing sets can be upgradedto a larger deck size with the Super Castle Upgrade, or trade out the 360 Tire Swing for a Swinging Tent. A Wood Roof canopy option also adds rustic charm to a backyard play structure.
The Clubhouse swing sets offer many unique configurations and options to choose from! Lower Level Playhouses are a popular add-on for kids who like to have their own private space. The addition of a Lemonade Stand or Dream Theater promotes a child's imagination for interacting with their friends or family.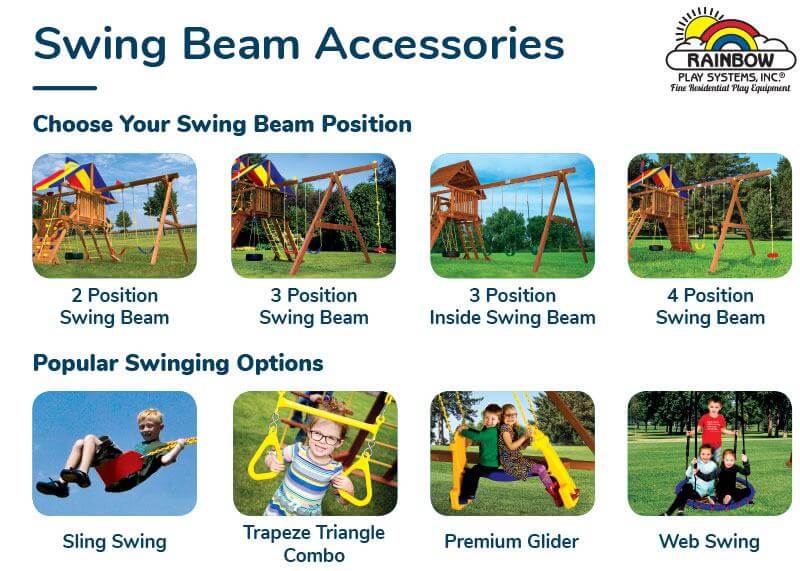 Swing Beams & Swinging Accessories
Swing beams are what make a swing set… a swing set! There are four different lengths to choose from: 2 position swing beam, 3 position swing beam, 3 position inside swing beam, or a four position swing beam. Each 'position' is an opportunity to add a swinging option or accessory!
View the 2020 Swinging Options that are available on our website – mix and match to create a variety of fun, playful options!

Monkey Bars & Accessories
Monkey bars for swing sets are a great addition. The climbing and swinging promotes building muscle and improves hand-eye coordination in kids. The length and height of the monkey bars depends on what size you have chosen for your swing set.
The Super Monkey Bars are a new upgrade available for 2020! The Sunshine, Rainbow, Monster, and King Kong swing sets can take advantage of the 50% wider monkey bars.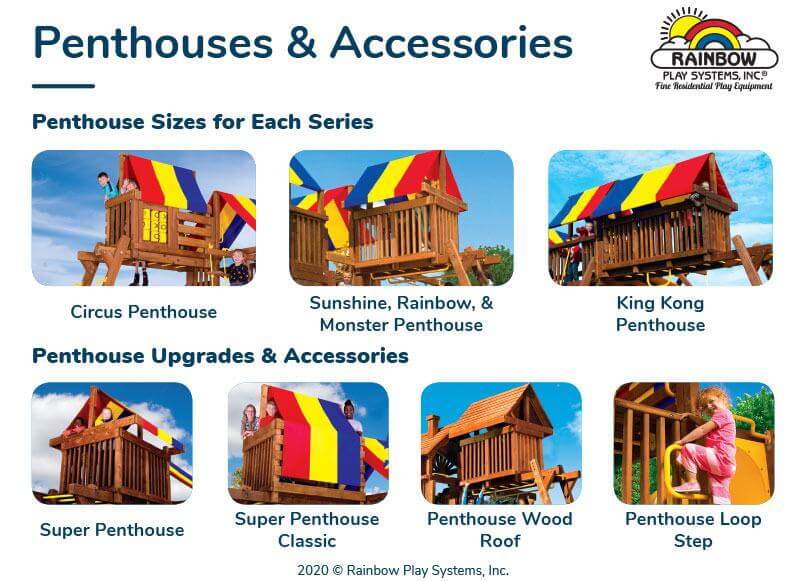 Penthouses & Accessories
Penthouses are a great way to add a cozy hideaway to any swing set.
Supported by Monkey Bars, a Penthouse is easy to customize.
A Wood Roof adds a rustic cabin-aesthetic or include a loop step for an extra boost. Think about including a Crow's Nest or an Extended Bubble Panel to help kid's enhance their imagination!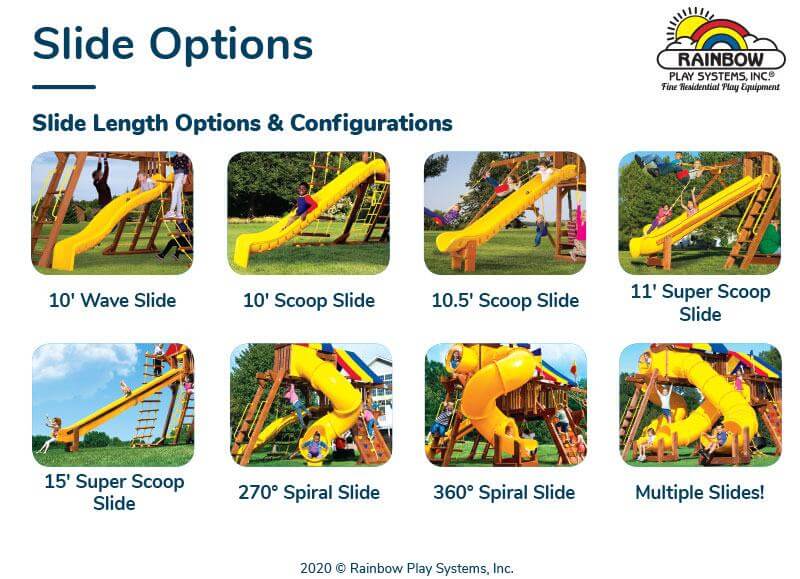 Slide Options & Configurations
Rainbow Play Systems offers a variety of slides for swing sets for almost every budget. The length of the slide depends on the deck height of your swing set. Spiral Slides, or even the Super Scoop Slide are popular for Penthouse configurations!
Design Your Very Own Rainbow Today!
With so many options to choose from, talking to your local Rainbow Distributor can help you determine what is the best fit for your family.
Contact a showroom near you to start designing your dream Rainbow today!