For 37 years Rainbow Play Systems has been building the safest play sets on the market.
Rainbow's unparalleled engineering and structural integrity is the finest available. We build with 100% natural big beam cedar construction which is backed by our exclusive lifetime warranty. To ensure our swing sets are assembled safely we offer professional delivery and installation services nationwide. Our knowledgeable people who make up our 200 showrooms are ready to serve you.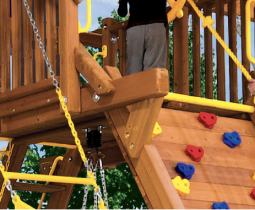 Big Beam Construction
Rainbow Play Systems are engineered to be rock solid & the foundation of our design is the abundance of big beam construction. Massive 4"x 4" & 4"x 6" timbers are utilized as structural components.
Notched Beam Construction
Essential for long lasting & durable structure. The notches that are cut into the end of the brace are designed to gain maximum support by bracing wood against wood. This greatly reduces the force on the lag bolt that holds the brace in position.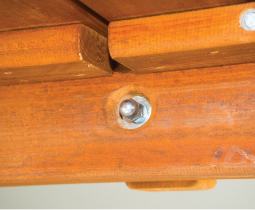 Recessed & Safety Capped Hardware
Extra attention to detail & safety includes recessed hardware throughout the play structure. The recessed hole has a routered edge & the bolt is double nutted capped off with an acorn nut.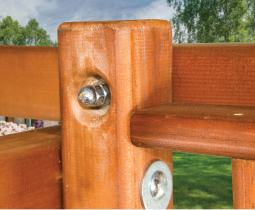 Massive 1/2" Hardware
Rainbow's Castle & Clubhouse feature massive 1/2" diameter thru-bolt hardware utilized in the entire structure for unparalleled strength & stability.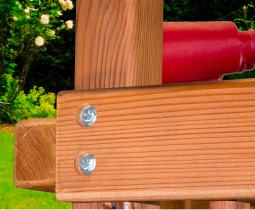 Dual Bolt Construction
Dual bolted construction detail throughout the play structure creates tremendous rigidity at the connection points for a vastly more stable structure than compared to the single bolt construction used by competitors.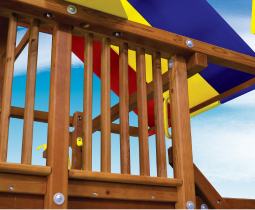 Vertical Spindle Safety Rails
Parents appreciate vertical slats because they prevent youngsters from climbing upwards. We use thick 2"x 3" boards which are attractively turned 90º to permit greater play supervision as well as allowing the natural surroundings behind the play structure to be seen.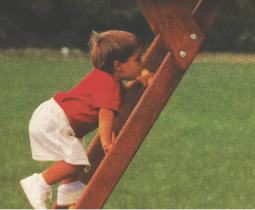 Angled Safety Ladders
Logical safety design in all Rainbow components, the angled ladder design is much easier to climb up & climb down.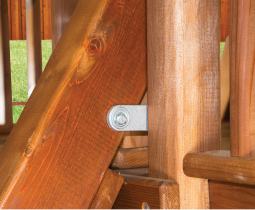 Ladder & Rock Wall Brackets
Used to brace the Ladder & Rock Wall securely to the play Structure creating a safe "no lift" design.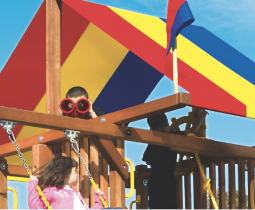 Heavy Duty 18 oz. Canopy
Our Heavy Duty Canopy offers protection from sun or rain to make everyday a great day to play. Our removable canopy is easy to clean, thicker than most in the industry & manufactured with UV protective material to mitigate fading.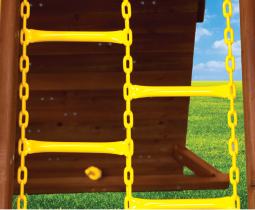 Plastisol Dipped Ladder Chains
Plastisol Dipped Ladder Rungs provide children a better surface to grip with their hands & feet as they climb while reducing slipping. Plastisol is extremely durable & won't chip or scratch. It also insulates the rungs from the heat or cold.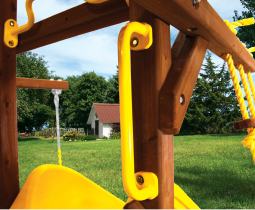 Powder Coated Safety Handles
Power Coated Safety Handles installed in key areas contribute to a feeling of comfort as a child is gaining access to an entrance or exit on their Rainbow Play System.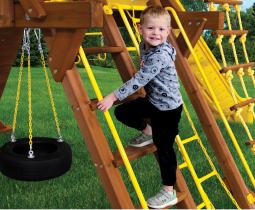 Powder Coated Ladder Handles
Power Coated Ladder Handles installed on the Ladders contribute to a feeling of security as a child climbs up the ladder to reach the Monkey Bars or play platform.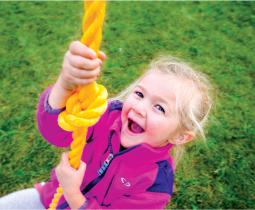 Full 1" Thick Rope
Rainbow only uses 1" thick rope – no thin 1/2" or 5/8" rope. Utilizing a full 1" diameter rope creates easy to grab rope, very large knots & eliminates tangling.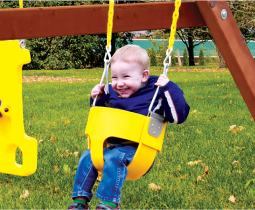 Full Bucket Swing
Safely secures little ones in the swing seat. This full bucket design originated in the commercial playground industry & has been used for many decades as the safest possible swing for smaller children.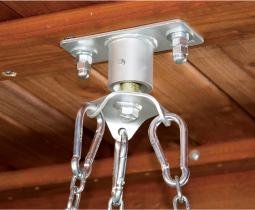 Heavy Duty Ductile Iron 360º Tire Swing Swivel
Ductile Iron has more carbon steel than traditional iron & is unmatched in strength. 360º swivel is double bolted & double nutted, includes 3 ultra safe carabiner mountain climbing clips & is backed by our Exclusive Lifetime Warranty.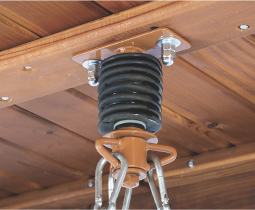 Super Duty 360º Tire Swing Swivel
Our Super Duty 360º  Tire Swing Swivel is built with durability & strength beyond compare. It comes equipped with a rubber casing enclosure over the swivel action to keep it free from any entanglements.
A Closer Look at Our Attention to Detail
Creating the highest quality Swing Hanger design in the residential playground industry. The Incredible Rainbow commercial grade swing hanger has a proven track record of performance for over three decades.
Easy, Fun & Effortless Swinging
The ultra-smooth Acedtal Bushing within our swing hangers makes swinging a blast for all ages!! The Acetal Bushing will never wear out & will last a lifetime.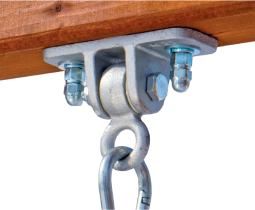 Rainbow's Commercial Grade Ductile Iron Swing Hingers
The finest quality, safest & most durable swing hanger ever created. Rainbow Swing Hangers will never wear out & will last a lifetime.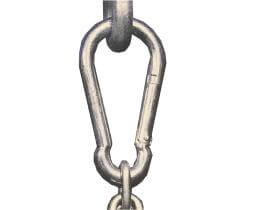 Mountain Climbing Carabiner
The absolute safest method to secure your swings to the swing hanger. Widely used & recognized by mountain climbers as the ultimate in safety.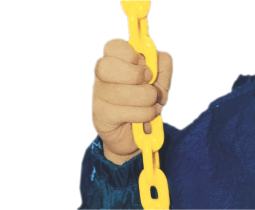 Plastisol Dipped Chaines
Our heavy guage chain is dipped in Plastisol creating a soft, pinch-free swing chain for children to hold on to. The Plastisol coating also insulates from heat & cold.
Building a Better Playset
Over 4 Million Rainbow Swing Hangers are in use worldwide. With a closer look, you can see why our attention to detail creates the highest quality swing hanger for residential playsets in the industry.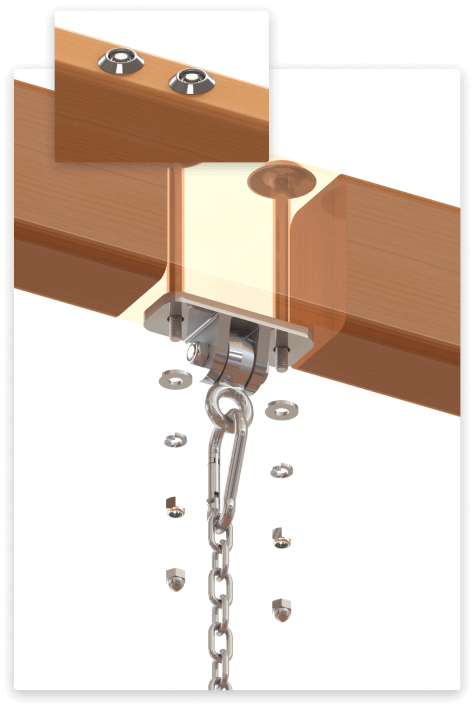 Rainbow's Exclusive Super Duty Swing Beam Design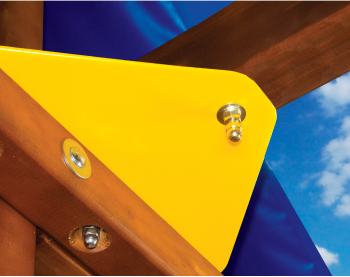 Rainbow's Super Duty Swing Beam Mounting Plate
Utilizing four half-inch carriage bolts to secure the swing beam to the base structure creates an ultra-strong & ultra-stable THRU-BOLTED swing beam connection point. The Mounting Plate is heavy gauge steel.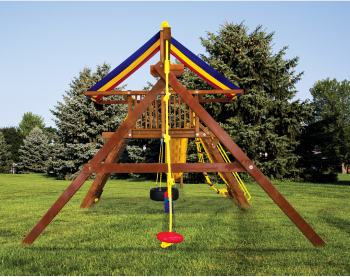 Equilateral Triangle A-Frame System For Maximum Stability
Our wide stance equilateral triangle A-Frame design is engineered based on the unparalleled stability of our swing beam support legs creating an equilateral triangle.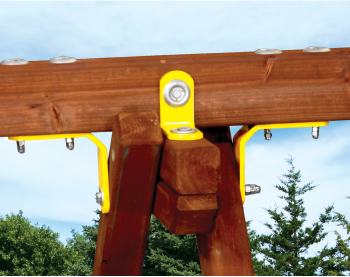 Exclusive Triple Bracket System
Another Rainbow original design that creates THREE connection points, is adjustable to accommodate any unlevel ground & has a proven track record being utilized on Rainbow Swing Beams for over 3 decades.
Rainbow provides the widest selection of solutions for unlevel yards in America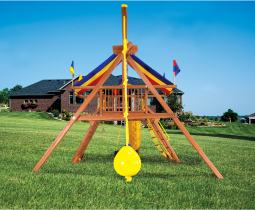 Sunshine Extended A-Frame Leg for an unlevel yard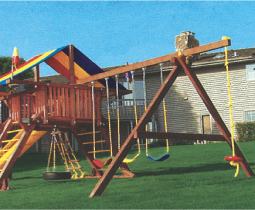 Super Turbo Rainbow Extended A-Frame Leg for an unlevel yard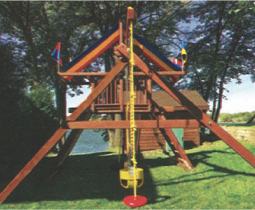 Double Extended A-Frame Leg for an extremely unlevel yard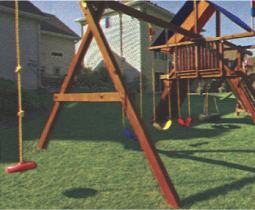 Two Extended A-Frame Legs for an unlevel yard that slopes away from main structure
Looking to Buy Commercial? Check Out Rainbow Play Village.
Rainbow's commercial playground sets are perfect for community parks, private schools, churches, daycares, apartment complexes, campgrounds, and more! We proudly offer ADA Accessible playsets, meeting the American's with Disabilities Act Accessibility Guidelines. Our commercial playground sets meet or exceed American Society for Testing Materials safety standards for public grounds!
Explore The Village Line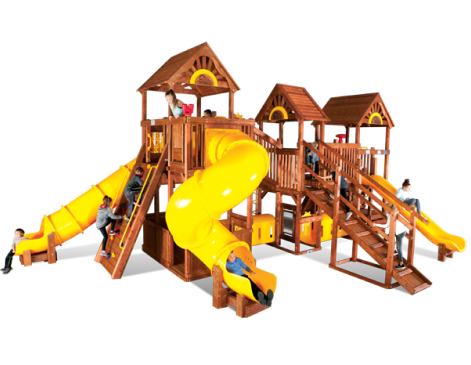 Visit a Showroom Near You
You truly have to see it to believe it! Bring your family to one of our nationwide showrooms to experience our dedication to quality and try out our wooden backyard playsets in person. Climbing, sliding, and swinging is encouraged!