The Best Swing Sets for Open Play & Unlevel Backyards
Welcome to our enormous selection of Rainbow Castle outdoor swing sets! The Castle style outdoor wooden swing set is an open play design that produces an abundance of space to climb, slide, and swing. Our Castle swing sets are perfect for any uneven backyard. Explore our Castles and their unique ability to accommodate almost any play area.
Castle Sizes
From the modest Circus to the monstrous King Kong, our Castle swing sets come in multiple deck heights and sizes. Pick the perfect swing set size for your family!
Circus Castles
The Circus Castle swing sets have a 5' deck height, 8' swing beam height, and 4' x 6' deck size. The Circus Castles are a fantastic entry level Castle swing set!
View Circus Castles
Sunshine Castles
The Sunshine Castle swing sets have a larger 5.2' x 5.2' deck size which means more play space for energetic kids. The Sunshine Castle is our best selling swing set!
View Sunshine Castles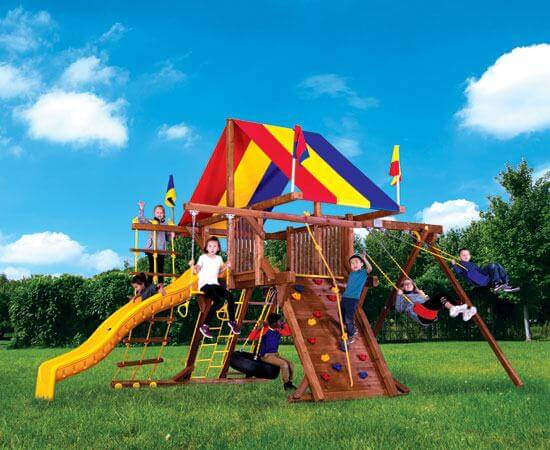 Rainbow Castles
The Rainbow Castle swing set boasts a 5' 8" deck height and 9' swing beam height with plastisol dipped steel components. Great for families with multiple kids, or many friends!
View Rainbow Castles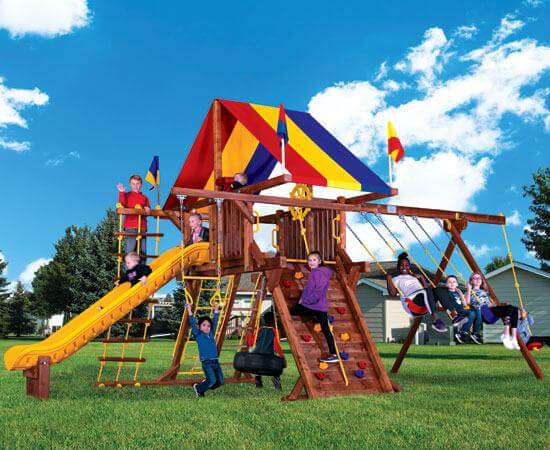 Monster Castles
The Monster Castle swing set was designed for the families looking for something even larger than the Rainbow Castle. Coming in with a 6' deck height, 9.25' swing beam height and 11' slide length the Monster Castle is definitely a hit!
View Monster Castles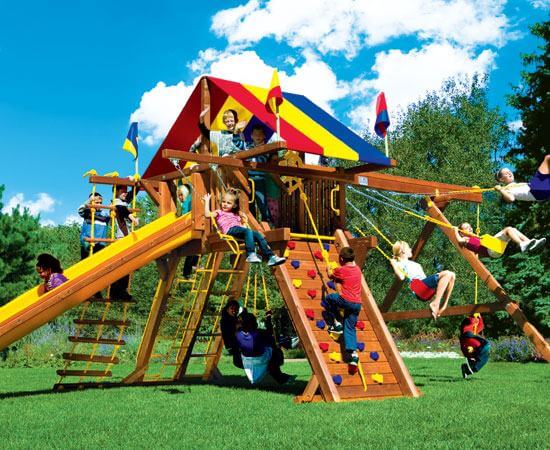 King Kong Castles
The King Kong Castle swing sets are the perfect statement pieces for your backyard. With a monstrous 7' 2" deck height, 10.5' swing beam height, and 15' slide length it's the swing set for the big kids!
View King Kong Castles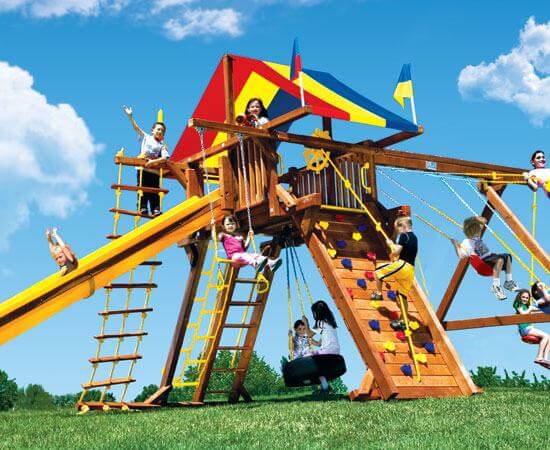 Visit a Showroom Near You
You truly have to see it to believe it! Bring your family to one of our nationwide showrooms to experience our dedication to quality in person. Climbing, sliding, and swinging is encouraged!