The Best Playsets for Custom Play & Compact Backyards
Welcome to our colossal collection of Clubhouse outdoor playsets! Create unique and imaginative spaces by utilizing the many playset accessories for the upper and lower platforms. The Clubhouse style is a great solution for compact yards, yet the versatile playset can still pack a ton of play activities like picnic tables and playhouses.
Clubhouse Sizes
From the entry level Fiesta Series to the enormous King Kong Series, our Clubhouse style
playsets come in multiple deck heights and sizes. Pick the perfect playset size for your family!
Super Funhouse
The Super Funhouse Series is our DIY swing set kits! With a modest deck heights for small children, and unique features exclusive to the Super Funhouse series, these wooden swing sets are perfect for growing families!
View Super Funhouse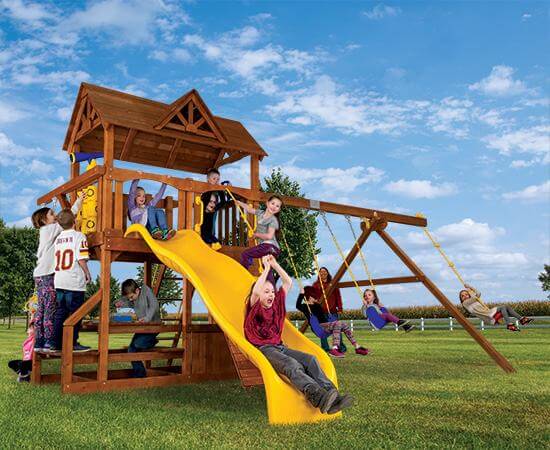 Fiesta Clubhouses
Packed full of fun, our entry level Fiesta Clubhouse series is compact, which is perfect for the smallest backyards. The lower deck height of 5 feet is great for young children!
View Fiesta Clubhouses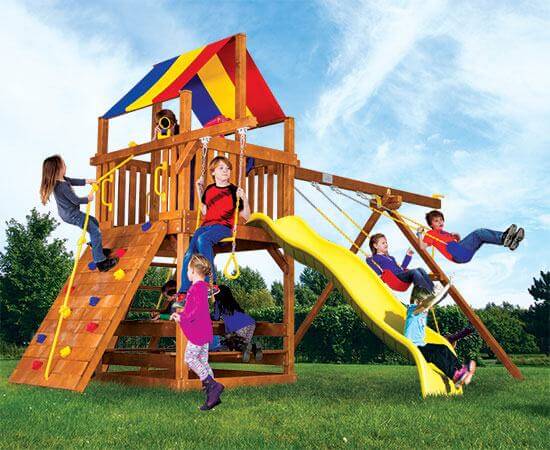 Carnival Clubhouses
The Carnival Clubhouse playsets are taller with a 5' 6" deck height and 8.5' swing beam height with your choice of the 10.5' length slides.  The 5' x 5' deck size Carnival Clubhouse is part of our Best Value Carnival Series celebrating it's 25th Anniversary!
View Carnival Clubhouses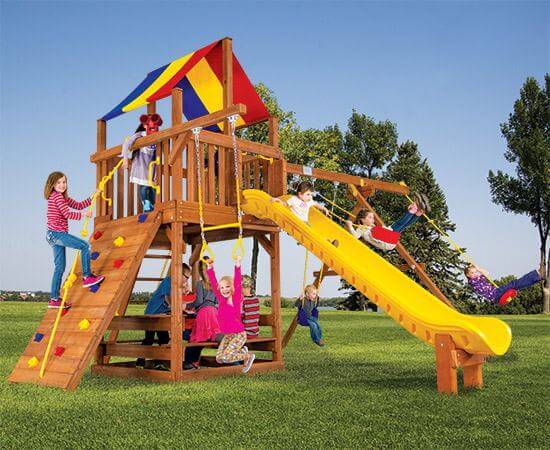 Sunshine Clubhouse
The Sunshine Clubhouse swing set has a 5.2' x 5.2' deck size which means more play space for energetic kids, and substantially more add-ons and options! 2019 represents a milestone in Rainbow's 34 Years of History as we Celebrate Sunshine, our #1 ALL-TIME MOST POPULAR Series!!!
View Sunshine Clubhouse
Rainbow Clubhouses
The Rainbow Clubhouse playsets are the industry leader in construction detail and design! These sets are great for kids of every age and fit in most modestly sized yards.
View Rainbow Clubhouses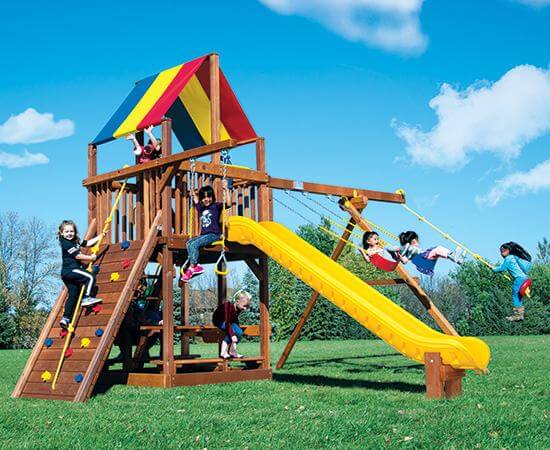 Monster Clubhouses
The Monster Clubhouse swing set has a 6' deck height, 9.5' swing beam height and the 11' Super Scoop Slide with the 5.2' x 7.8' deck size. The Monster Series boasts the most unique designs & our 2019 Monster line up stays true as our most unique series, including our ultra unique Huckleberry Hideout Series.
View Monster Clubhouse
Visit a Showroom Near You
You truly have to see it to believe it! Bring your family to one of our nationwide showrooms to experience our dedication to quality in person. Climbing, sliding, and swinging is encouraged!