Wondering Where to Buy Playset Accessories?
Wondering Where to Buy Swing Set Accessories?
Rainbow Play Systems offers an extensive line of playset accessories and add-ons that easily bring more fun and imagination to your children's playtime. Whether you're interested in a new wooden bridge, a plastic ship's steering wheel, a set of strength-building monkey bars or something else entirely — we have the playset accessories to meet your family's unique needs.
Browse our list of available accessories below and then get in touch with our team to get started making your custom swing set dreams come true.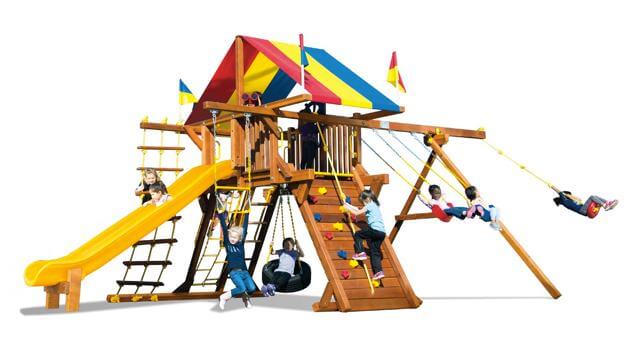 Package III
Base
+ Swing Beam
+ Monkey Bars
Package IV
Base
+ Swing Beam
+ Monkey Bars
+ Penthouse
Package V
Base
+ Swing Beam
+ Monkey Bars
+ Penthouse
+ Spiral Slide
Universal Playset Accessories
Rainbow Play Systems carries many universal playset accessories and add-ons. These options can be added to both Clubhouse playsets and Castle swing sets:
Castle Playset Accessories
Our Castle playsets feature open play designs that offer a vast, customizable amount of space to climb, slide, swing, and play. The right playset add-ons can make a big difference in how much fun and enjoyment your family gets out of this best-selling set:
Clubhouse Playset Accessories
Clubhouse playsets from Rainbow offer add-on options for both the upper and lower levels so you can double your fun as easily and efficiently as possible.
Commercial Playset Accessories
Commercial playsets from Rainbow Play Systems can be personalized to meet the function and aesthetic needs of your unique community or business.
Ship Playset Accessories
Ahoy matey! Deck out the special order Ship playset with an array of nautical themed options and accessories!
Visit a Showroom Near You
You truly have to see it to believe it! Bring your family to one of our nationwide showrooms to experience our dedication to quality and try out our wooden backyard playsets in person. Climbing, sliding, and swinging is encouraged!