Slides for Kids' Playsets
Exclusive Scoop Kids Outdoor Slides
The Rainbow Exclusive Scoop Slide is a double wall scoop slide, engineered with strength and safety in mind, making this outdoor slide perfect for both kids and toddlers! The slide's scoop bed design keeps kids in the center of the slide, while the extra high sides create a secure sliding experience. The double wall construction is engineered for maximum strength and structural integrity. The Scoop slides fit playsets of varying heights, depending on which series of playset you have. The 10' Scoop Slide goes with the Carnival's 5' Deck Height and the Sunshine's 5' 2" Deck Height. The 10.5' Scoop Slide is built for the Rainbow Series with the Deck Height of 5' 8". The 11.5' Safety Scoop Slide is for the Monster Series 6' Deck Height, while the 14' Safety Scoop Slide goes with the King Kong series 7' 2" Deck Height.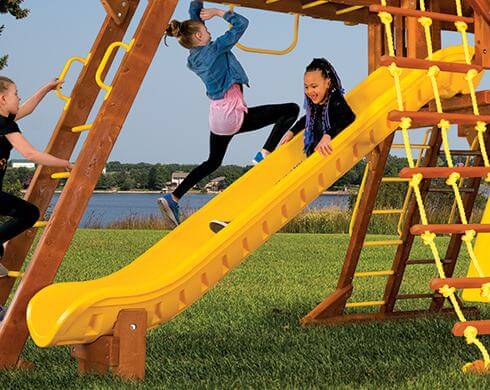 A Slide Necessity for Your Playset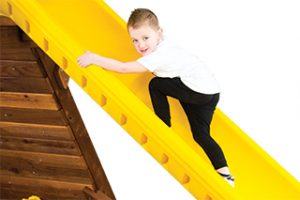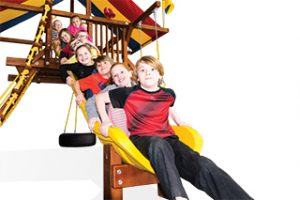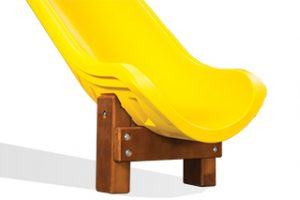 Spiral Backyard Slides
Rainbow Play Systems offers two different sizes for spiral slides for double the action! The 360º Spiral Slide is great for larger playsets, the entrance is typically from the penthouse. The 270º Spiral Slide is our budget-friendly option. Perfect for adding a unique element to any backyard play structure!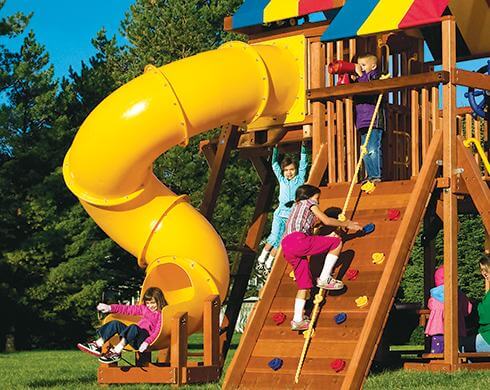 The 360º Spiral Slide
Rainbow's 360º spiral slide is 20% larger in diameter and has a more consistent circular ride down! The walls are 200% thicker, and has less seams than our competitor's version! The 360º spiral slide includes a big beam, wooden pedestal base for extra support and stability.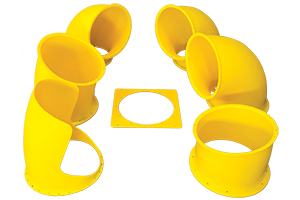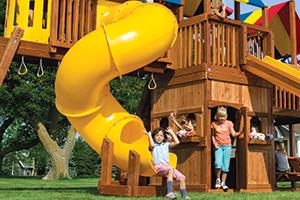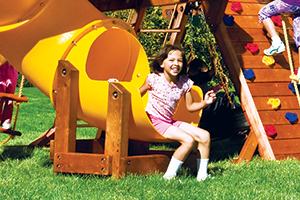 The 270º Spiral Slide
Rainbow's 270º Spiral Slide has twice as thick walls, less seams, and a double wall molded base for a secure landing unlike our competitor's version of this playset slide!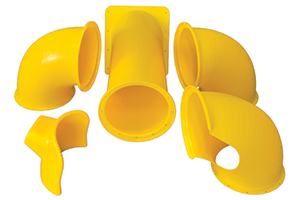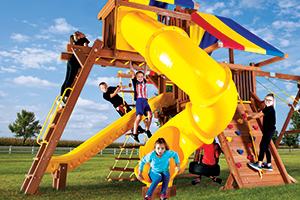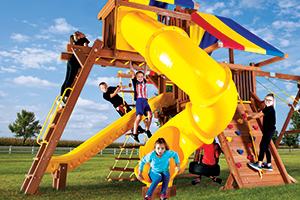 Wave Slides
The Rainbow Double Wall Wave Slides create a fun and safe sliding experience for all ages! Wave Slides have a fantastic design which allows an exciting wave into the slide bedway. The double wall construction is engineered for maximum strength for the highest level of safety and the most attractive appearance. The extra high sides run the entire length of this kid's outdoor slide, and run higher at the entrance point. All of this creates the safest possible wave slide design for kids of any age. Our 10' Wave Slide can go with either the Carnival or Sunshine Series.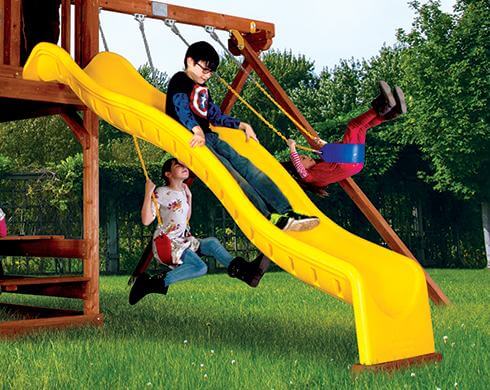 A Fantastic Slide That Creates Waves!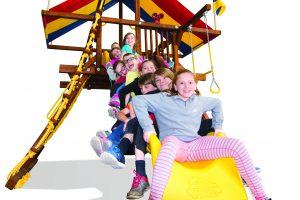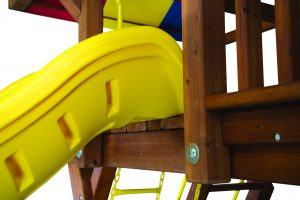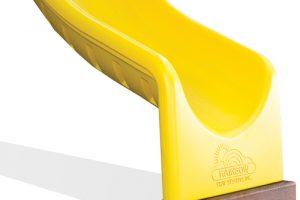 Playground and Backyard Slides FAQs
Yes, all of our swing sets have the ability to add a slide. Depending on which swing set you choose, the slide options vary.
Our slides have a 24" overall width, with an 18" bedway. This means that the diameter of the widest part of the slide is 24" and the seat width is 18".
The height of our slides also varies depending on which design you purchase. The Wave Slide and the Exclusive Scoop Slide is the shortest slide, while the Super Scoop slide is available in 11' and 15' sizes.