Create a Custom Home Playground for Endless Family Fun!
Don't settle for a one-size-fits-all playset for your home. Instead, design your own custom swing set to fit your family's play styles and needs! Rainbow Play has plenty of customizable options to choose from, that accommodate different ages, abilities and more. Discover the possibilities for your custom swing set!
How to Create Your Custom Swing Sets & Playsets
When you choose to design a custom swing set for your home playground, you have a variety of swing, slide, climbing and other accessory options. Some of the options are universal and some are based on the playset package you choose. Do you have a rock-climber-in-training? Add a climbing rockwall to your custom home playground! A kid who loves to put a shovel to work? Choose a sandbox add-on to fulfill all their digging dreams!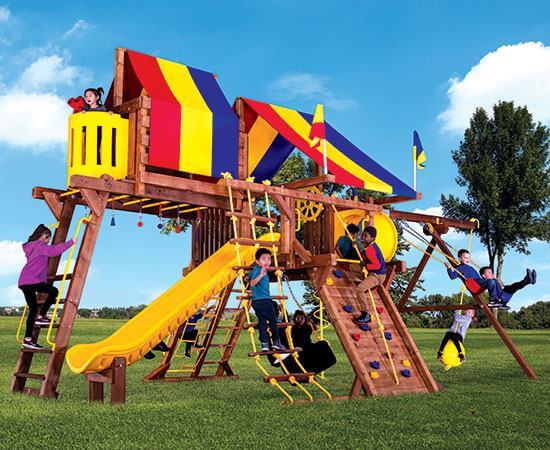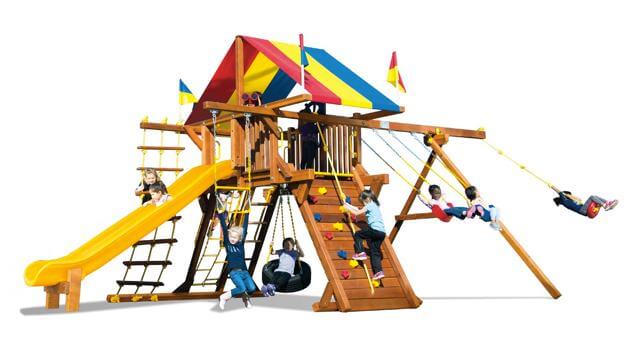 Package III
Base
+ Swing Beam
+ Monkey Bars
Package IV
Base
+ Swing Beam
+ Monkey Bars
+ Penthouse
Package V
Base
+ Swing Beam
+ Monkey Bars
+ Penthouse
+ Spiral Slide
Visit a Showroom Near You
You truly have to see it to believe it! Bring your family to one of our nationwide showrooms to experience our dedication to quality and try out our wooden backyard playsets in person. Climbing, sliding, and swinging is encouraged!