Deck Out Your Swing Set for Fall
Festive Fall Fun!
Fall is finally here! And with that it's time to anticipate cooler temperatures, shorter days, and even less time outdoors. It's also the right time of year to switch out that seasonal home décor to something like a cozy, rustic aesthetic that is kid-friendly for all ages.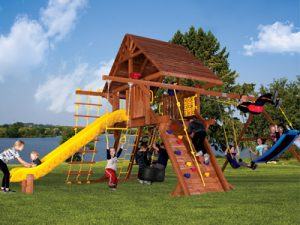 Before decorating, now is the perfect time to go over proper maintenance for your Rainbow Play System. Before the weather gets too cold, check out our blog post on Winterizing your Rainbow Swing Set! Regular care and upkeep to a swing set ensures that they last longer, are safer, and meet the warranty requirements.
Kids Decorate Backyard Swing Sets
Get children to play outside during the next coming months by allowing them to decorate their own backyard swing set for fall! Here is a list of ideas to encourage outdoor play during those cooler months:
Wreaths are a great way to add some fun to any wooden play structure. These are often outdoor-friendly and easy to attach and remove for when winter finally kicks off. Hang a wreath with command hooks or with zip ties to the front of railings without an accessory. Flat panels like on the playhouses or the playhouse door also make good candidates for a festive wreath or other fall fun decoration!
Here are some great DIY wreath ideas!
Spend a weekend picking and painting pumpkins or gourds with the kids. Place them around the swing set where they won't be tripped over or kicked, like in a Playhouse Flowerbox or on the counter top of the Lemonade Stand. Bring pumpkins and gourds in if temperatures drop below freezing, which can cause them to rot prematurely! Check out these no-carve pumpkin decoration ideas!
Is it getting close to Halloween? Kids can have fun creating their own haunted spook house in the backyard! With the addition of decorations, well-placed lanterns, and some kid friendly "spooky" music, kids can play haunted house all night. Find kid-friendly haunted house ideas here!
Add some cozy ambiance with fairy lights or solar powered lanterns. String them up inside the upper or lower level playhouse, or underneath the canopy. Bring these in if the weather predicts freezing or a lot of moisture and rain.
Book nooks are making a big comeback, and a swing set can be a place of solitude for reading or doing homework with some cozy additions like flannel blankets or pillows. The upper or lower playhouses, main forts, or penthouses have some seclusion. The Rainbow swinging options are also great for reading and relaxing in the outdoors, like the Hammock Swing, Web Swing, or Double Lawn Swing! Bring any blankets, pillows, or books in at the end of the night to keep them from getting musty or wet. Get fun ideas for a reading nook, and check out fun Rainbow Play swing set add-ons!
Rainbow Play Systems has been building wooden swing sets for over 30 years! Our wooden playsets are fun for kids of all ages, with hundreds of customizable options to choose from! Whether you're a parent looking for the perfect play structure for your home, or thinking about adding some new accessories to refresh your current Rainbow Play System, contact your local Rainbow Play Systems showroom today and get started on years of outdoor family fun!