Brookings South Dakota Hosts College GameDay!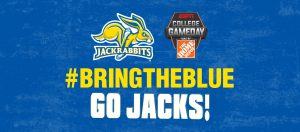 Welcome To Brookings!
This Saturday, Brookings and South Dakota State University are hosting ESPN GameDay, a huge pre-game show airing on national television. The SDSU Jackrabbits are facing off against their biggest rival, the North Dakota State Bison, making this one of the biggest football games of the year!
We would like to say a BIG "Welcome to Brookings, South Dakota and South Dakota State University" to the North Dakota State Bison, College GameDay and ESPN!
#GoJacks!
For 30 years Rainbow Play Systems has been creating the safest, most durable swing sets in the industry right in America's heartland: Brookings, SD!
A big part of our company workforce comes from the Brookings community and the local university: South Dakota State! University students often work flexible hours for the factory, creating some of the best swing sets in the world!
Here at Rainbow Play Systems, we are eager and excited to promote our wonderful community and college students for this big day! Go Big, Go Blue, Go Jacks!!