Commercial Playground Equipment ADA Options
The Best ADA Features For Commercial Swing Sets
Children of all sizes and ages have one thing in common: they like to play! Most commercial playgrounds are ADA Compliant, meaning that children with disabilities have safe and enjoyable play areas while socializing with other kids. Rainbow Play Systems® offers commercial playground equipment that meets the Americans with Disabilities Act Accessibility Guidelines.
Here are some of the Rainbow Play Village® features and add-ons that make our playsets ADA accessible:
1.)   Ground-level components provide fun and interactive features for all kids to play with. These are easier for children with physical disabilities to reach and use. Add-ons such as the Lemonade Stand, Learning Center, and Ha Ha Mirror are perfect features for any playground!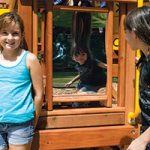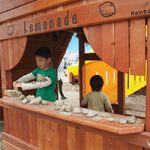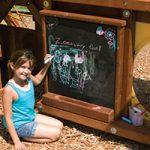 2.)  Appropriately placed transfer stations help children transfer into the elevated components of a playset. Kids with mobility devices use these platforms to lift themselves up onto the elevated components, leaving their wheel chair or device on the ground level. Rainbow Play System's ADA Stations are compliant in height and feature many railings and supports for children to transfer safely!
3.) Elevated components are also important, they help children who have used the ADA Station to transfer and connect to other elevated platforms and features! These play components must provide an accessible route across the play equipment. Features like the Crawl Tube and Billy Goat Bridge give children more options and make more features accessible on other sides of the playset.
Rainbow Play Systems offers ADA accessible commercial playground equipment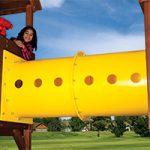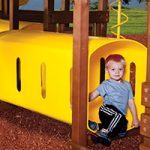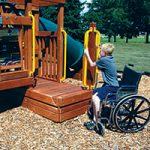 View the Rainbow Play Village line to choose the best design for your needs, or if you want to create a customized playground that is ADA accessible, check with your nearest showroom. Between design engineers and salespeople, they can help you choose the right features so that your playset meets or even exceeds the Americans with Disabilities Act Accessibility Guidelines.
The United States Access Board can provide more information regarding accessible play areas and guidelines.