Spring Care Tips for your Rainbow Swing Set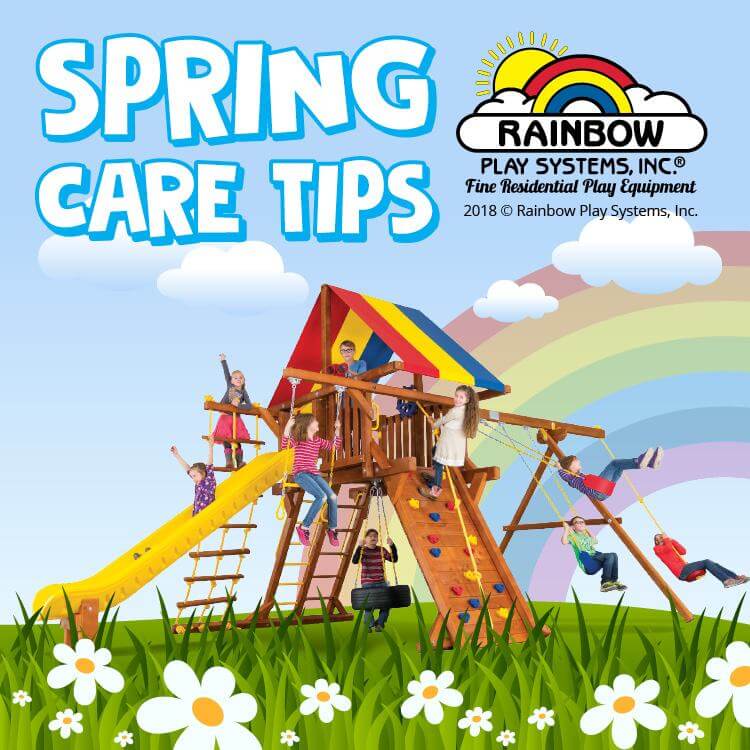 Caring for your Rainbow Play Systems Swing Set
Winter weather can take a toll on any outdoor swing set, but now that the days are getting warmer, children are ready to spend more time outside! Here at Rainbow Play Systems, children's safety is our top priority, so we have provided an important yearly checklist to go over once the snow recedes and the flowers start to bloom!
Maintaining Wood & Other Components
Thoroughly check wood for splinters or cracks, sand or replace components as needed. Something to note: wood has natural imperfections, such as surface cracks, knots, and knotholes. These characteristics do not affect the structural integrity of the Rainbow Play System.
It is recommended to recoat your Rainbow Play System with sealant or preservative annually to sustain the life of your play system.
Wooden swing sets are just like any other wooden outdoor furniture or decking structure, it needs to be cared for and maintained.
Make sure the sealant that is selected is non-toxic and child safe. Or contact your local dealer and ask about the original Rainbow Play Systems Sealant.
Tarps and vinyl-dipped parts can be cleaned with soap and water.
Check all exposed metal parts for rust, if needed, sand and repaint using a non-lead-based paint.
Look for deterioration, wearing, or rust on all moving parts, including swing seats, ropes, and chains. These are to be replaced as needed.
Lubricate all metallic moving parts, grease the tire swivel monthly during usage period.
Look to your Rainbow Play Systems Swing Set Manual for specific care instructions!
Maintaining the Safety & Structure
Reinstall swing seats, tarps, flags, slides, and other plastic components, which may have been removed for the winter.
Check and tighten all nuts and bolts as needed, be careful not to over tighten causing the wood to crack.
Double check bolt coverings, sharp edges, and corners.
Hardware used on swinging elements should be checked at least twice a month to ensure proper fastening.
Look at swing hangers, tire swivels, s-hooks, eyebolts, and spring clips for wear and replace or tighten as needed.
Make sure the main structure and swing beam as level to the ground. Adjust as necessary.
Rake and check the depth of loose fill protective surfacing materials to prevent compaction and to maintain appropriate depth.
Don't have time? It is always a good idea to check with your local Rainbow Play Systems dealer for specials on safety, structural, and maintenance plans.
So, where can a customer find new swing set parts and accessories for their play system? Rainbow Play Systems has the best quality hardware in the swing set business, so give your friendly local Rainbow dealer a call! Most stores will gladly order in new parts and send someone over install them.
Fees and exclusions may apply.