Rainbow Play 2021 Idea Book Catalog is Here!
The Rainbow 2021 Idea Book has Dropped!
Our 2021 swing set catalog is here and it's filled with swing set configurations for you to choose from. Alternately, maybe you want to design your own custom swing set with elements that will fit your family perfectly?  We can help with that too!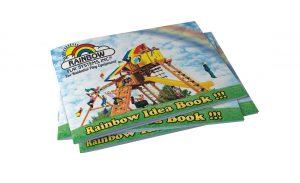 Along with hundreds of images of our beautiful swing sets you will find information on how we categorize our playsets.  Such as our I-V Packaging System and our two silhouette choices: Castle and Clubhouse. What's more, you will discover how you can use our 3-Step-Design-Process to narrow down your choices and pin point the ideal playset for your family.
As you browse you will see the 100 Idea number/alpha codes corresponding to various swing set layouts. If you see a design you like, feel free to reach out to your local showroom for more details, or request a price list on our website (more information on that at the end of this article). Additionally, if you don't see exactly what you're looking for in the Ideas you can chat with your local showroom and work together to design a custom playset that will fit your family.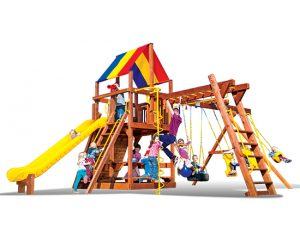 On top of all that, another fun section to browse is our accessory pages. We offer over 100 accessories/options to choose from. Thumb through this section with your kids and have them pick out their favorite swing set accessories!
How to view and get your Rainbow 2021 Idea Book:
·       Browse our Idea Book digitally
·       Request a copy to be sent to your home
·       Find a showroom near you with our Find a Showroom tool
We hope you will take some time to dig into our catalog and as you do begin to imagine the memories your family could make on your new Rainbow Play System!