Spring is Here – Swing Set Spring Maintenance List
Spring is here! The first day of Spring was March 20th.
Are you as excited about Spring as we are? Looking forward to days outside, playing, soaking in the sun and getting fresh air?!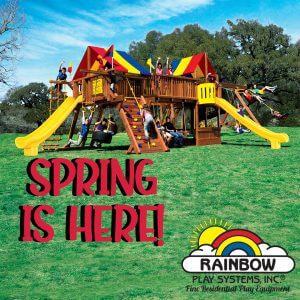 Getting your yard ready for Spring is exciting! Your Rainbow Play System also needs some attention for the safety of your children and to maintain your Rainbow Play lifetime warranty.
Let's go over a to-do list to keep it in tip-top-shape.
Check all wood components for deterioration and splinters. Spot sand any areas that are checking or splintering.
Check entire Structure and Swing Beam to ensure they are level, if not adjust structure and/or Swing Beam back to a level position.
Clean tarps with soap and water.
Clean vinyl dipped parts.
Check all coverings on bolts, sharp edges and corners. Replace when necessary.
Rake and check depth of loose fill protective surfacing materials to prevent compaction and to maintain appropriate depth. Replace as necessary.
We recommend that you coat your play system with a sealant or preservative. You may also need to spot sand areas or powerwash before sealing. Be sure that the sealant you select is non-toxic and child safe. You can contact your local distributor to buy Rainbow Play Systems patented sealer.
Lubricate all metallic moving parts and grease Tire Swivel monthly during usage period.
Check all moving parts including swing seat, ropes and chains for wear, rust, or other deterioration.
Check all swing hangers, tire swivel, s-hooks, eye-bolts, and spring clips for wear and replace as needed.
Check the S-Hooks on the chains to ensure the gap is less than .040 inches. Tighten/close as necessary.
This is just a basic list of maintenance for your Rainbow Play System. Be sure and check the Maintenance Instructions you received with your specific playset.
Contact your local dealer for questions or replacement parts. They will be happy to help you out. Find your local Rainbow showroom and warranty information here.
If you haven't registered your Rainbow Play System, here is a link for you.
You can always check with your locally owned showroom for maintenance packages. They will have a professional come out and evaluate your play set and re-seal it. Below is a basic list of distributors that offer these services. Be sure and contact your nearest distributor to see if they offer these services.
Ace Game Room, Fort Wayne, Indiana
Alden Pools & Play, Alden, New York
American Play Systems, Tucson & Chandler, Arizona
Bullzeye TCNaz, Eastlake, Ohio
Swings & Bulliards, Newnan, Georgia
Dream Play Recreation, St. Louis, Missouri
Granite State Rainbow Play, Massachusets, New Hampshire & Maine
Playground King, Tampa, Florida
Pleasant Run Structures, New Jersey
Rainbow Play of North Carolina, Raleigh, North Carolina
Rainbow Play Systems of Texas, Texas
Rainbow Midwest, Bloomington/Rochester, St. Cloud, Minnesota & Sioux Falls, South Dakota 
Rainbow Swing Set Superstore, Denver, Colorado 
Backyard Playworld, Gretna, Nebraska
Swings-n-Things, Blue Ash, Ohio 
Be sure and supervise your kiddos during play time. Push them on the swing, catch them at the end of the slide and giggle with them! You're keeping them safe and creating memories that will last a lifetime!