National Play Outside Day 2021
Let's Go Outside to Play!
Did you know that the first Saturday of every month is National Play Outside Day? In March of 2011, Aaron Wiggans and Rhonda D. Abeyta founded National Play Outside Day when they recognized that children, as well as adults, were not spending as much time outside as they should be. So, grab your calendar and mark the first Saturday of each month for 2021. Create a new tradition, invite your family or friends and go outside to play!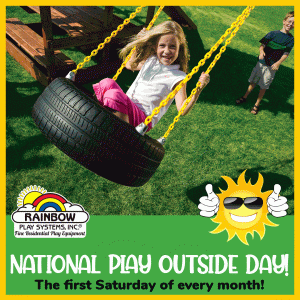 A 2019 study by Scientific Reports concluded that spending at least 120 minutes a week in nature is associated with good health and well being. Have you been thinking about being more active? Begin with National Play Outside Day and perhaps you will be inspired to get outside more often.
As most parents know it's a challenge to balance screen time with organic play time. Getting outside is a great way to unplug and encourage kids to use their imagination. When kids spend more time outside they are more likely to be physically healthy, well-rounded, independent and empathetic. Indeed, qualities all parents want for their kids.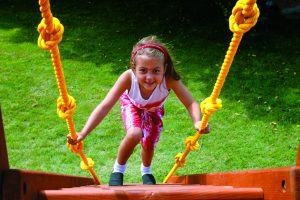 Swinging is an excellent example of an outdoor activity with many benefits. Physical fitness is developed as kids (or adults) engage all major muscle groups as they learn to hold on, stay upright and push their legs to keep the motion going. Social benefits include swinging in tandem with friends and being aware of your surroundings to avoid potential collisions with others in the area. Emotional benefits of swinging include the joy one receives from swinging, it gives a feeling of calm and of happiness. Swinging often creates laughter and we all know that's the best medicine!
Rainbow Play Systems offer a number of these simple activities that strengthen a child's over all well-being like; swinging, climbing monkey bars and rock walls, and sliding. You can browse our over 100 playset configurations.
After a little brain storm session, the Rainbow team came up with a list of ideas for outside play to get you started.
Outdoor Play Activities:
Play on your Rainbow Swing Set
Explore bike trails
Walk around the neighborhood
Try Frisbee golf
Go swimming
Check out a park in a different town
Go hiking
Play sports with family
Fly a kite
Sketch nature
Go fishing
Try Geocaching
Play tag with neighbors
Play catch
Build a fort in the backyard
Plan a picnic
Make your own list and let the kids help. Take turns each month participating in different family member's activity ideas. Lots of memories will be made!
Learn more about National Play Outside Day, its founders and what they are up to.