Stay Hydrated & Stay Healthy
Hydration is Essential
Kids are busy bodies and don't necessarily think about drinking water throughout their day.  There are a plethora of articles on the World Wide Web that speak directly about the importance of keeping children hydrated and the possible repercussions if they aren't.
Here are some ways you can help them out: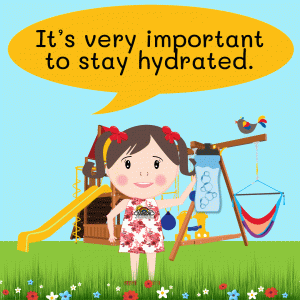 Store bought or homemade popsicles
Give them a straw to drink from
Put cut up fruits in your ice cube trays before freezing
Fruit slushies with lots of finely crushed ice
Let them pick out their very own insulated water bottle to use throughout the day
Add flavoring to their water
Reminders to take a sip of water
Foods that hydrate:
Zucchini
Cucumber
Tomato
Grapes
Melons
Pineapple
Celery
Strawberries
Oranges
Grapefruit
Pears
Blueberries
There are so many benefits that come with staying hydrated. Better blood flow, healthy bones and joints, and so much more.
For more detailed information and recommendations, please visit the CDC hydration tips webpage.