Outdoor Winter Fun on Swing Sets!
Winter is here and finding projects to help occupy the kids with fresh air fun during this time is a priority!  While children may be busy with their new toys indoors, encourage them to play outside for a few hours to blow off some extra energy – it wouldn't be winter without red rosy noses, coats caked in snow, and a big steaming mug of hot cocoa! There are so many fun options available to create winter excitement outside, especially on a Clubhouse or Castle swing set!
We have created outdoor swing set play ideas for the cold snowy North and the warm wet South regions: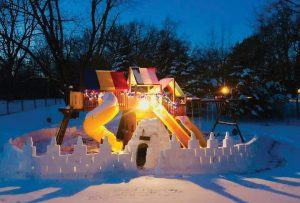 In the North your backyard might be white nw and the temperatures not so warm, but you can still try to get some fresh air playing on your Rainbow swing set!
In the snowy winters of the North, here are some ideas!
·        Enjoy the white stuff and build a snow fort around the backyard swing set.
·        Use this fort as protection in a snowball fight!
·        Build a snowman family.
·        Get cozy in an Upper or Lower Playhouse.
In the South you may be getting more rain and some of the temperatures not so warm, but when it's dry and a bit warmer, you can enjoy your Rainbow swing set!
In the mild winters of the South, here are some ideas!
·        Use the Tic-Tac-Toe Panel for a competition against siblings and friends.
·        Take the Castle 360° Tire Swing for a spin.
·        Hang out at the picnic table with color books or card games.
·        Let the creativity flow with a puppet show in the Dream Theatre.
If you bought new swing set accessories to add to your Rainbow swing set, now is the perfect time to test them out (in the South) and have some great outdoor fun! If it's too cold outside to play comfortably, call your local Rainbow Showroom today at 1-800-RAINBOW to see if they offer inside play time during the winter months! You can also find your showroom website pages and call them to ask about Pay to Play hours.