Making the Best of a Staycation!
Vacation plans cancelled? No school? Taking part in social distancing can be a real bummer especially in those first few weeks leading up to spring. Outdoor play is still recommended – children can explore the backyard, play games or enjoy a Rainbow Swing Set!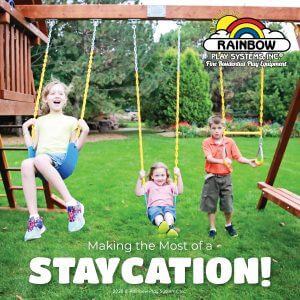 You can call your locally owned Rainbow Showroom at 1-800-RAINBOW to see what specials they offer and don't forget to ask for their professional installation service!  Relax and build your family bond in your own backyard with a brand new 2020 Rainbow Play System playset for years to come!
Now is the best time to upgrade your backyard for play dates and activities. Rainbow Play Systems offers the best wooden play equipment in the industry, with perfected safety features and options galore!