Learning Ideas with Rainbow PlaySets
Times have changed and it's a different world we are living in right now. Try to stay positive and let us help with some at home learning ideas to keep your children busy! With a Rainbow Play Systems playset there are many ways you can incorporate school, learning and fun!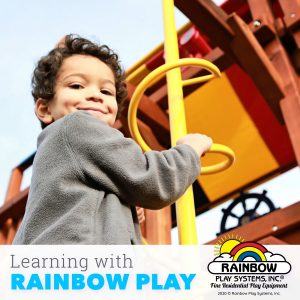 For younger children, have them find different shapes on their playset:
Can you find a Circle? Triangle? Square? Or Rectangle? How many can you find of each one on your playset?!
How many colors do you see? Red, Blue, Yellow, etc.
Have a chalkboard? Have your child practice their writing skills! If they are just learning some new words, challenge them with writing some sight words down!
Count how many of each option. How many rocks on your playset's rock wall? How many swings? Steps? Ropes?
For older children, challenge them with more advanced learning skills:
What kind of angles make up the playset? How many different angles can you find on your playset?
What new ideas canyou think of that would be fun to add on to their current playset?
Set up a scavenger hunt! Print off different pictures or place different items in and around your playset and go on a hunt to find all the different items.
Children who enjoy arts and crafts can also have learning activity fun on their playset:
Bring out the coloring books and crayons to enjoy the sunshine under the canopy or on the picnic bench! Download our coloring pages for free!
Remember that this is a good time to reconnect with your family and reestablish that home base. Learning can be fun with a Rainbow Play System! Let's keep Building Childhood Memories® together!
Use the hashtags #RainbowPlay and #RainbowPlaySystems to let us know all the different ways you use your Rainbow Play System at home!
Interested in building a Rainbow Play Systems swing set in your backyard? Find your local showroom and call them today!