The Best Swing Sets for Any Backyard
Welcome to our enormous selection of Rainbow Castle outdoor swing sets! The Castle-style outdoor wooden swing set is an open-play design that creates an abundance of space to climb, slide and swing. Our Castle swing sets are perfect for any uneven backyard. Explore our Castles and their unique ability to accommodate almost any play area.
Your Children Deserve The Very Best
Durable
Rainbow uses heavy-duty materials, from thick canopies and sturdy ladders to coated safe handles that protect your children. These safety and design specifications make our swing sets the most durable on the market.
Customizable
Make your child's new swing set a dream come true with Rainbow's extensive selection of customizable features such as tube slides, sandboxes, monkey bars and more.
Safest
Safety takes top priority in every swing set from Rainbow Play. Our designs, materials and installations are all done to the highest standard possible to ensure a safe, happy playground for your child.
View and Compare
Get to know Rainbow Play's standard playset models and how you can customize them with all your child's favorite features and accessories. Each standard model is a bit different from the rest, so learn which one might be the best fit for your backyard and budget.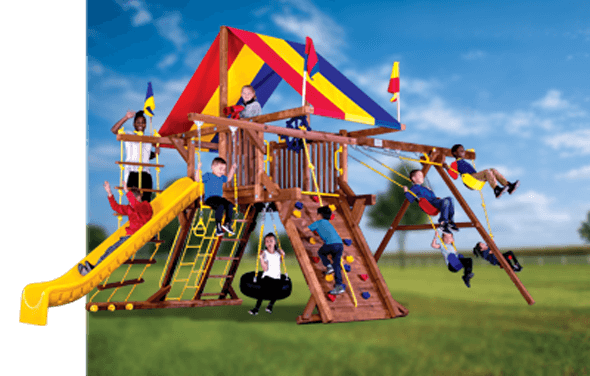 Visit a Showroom Near You
You truly have to see it to believe it! Bring your family to one of our nationwide showrooms and experience our dedication to quality. Try out our wooden playsets in person — where climbing, sliding, and swinging is encouraged!