Huckleberry Swing Sets – Cozy Clubhouse Cabins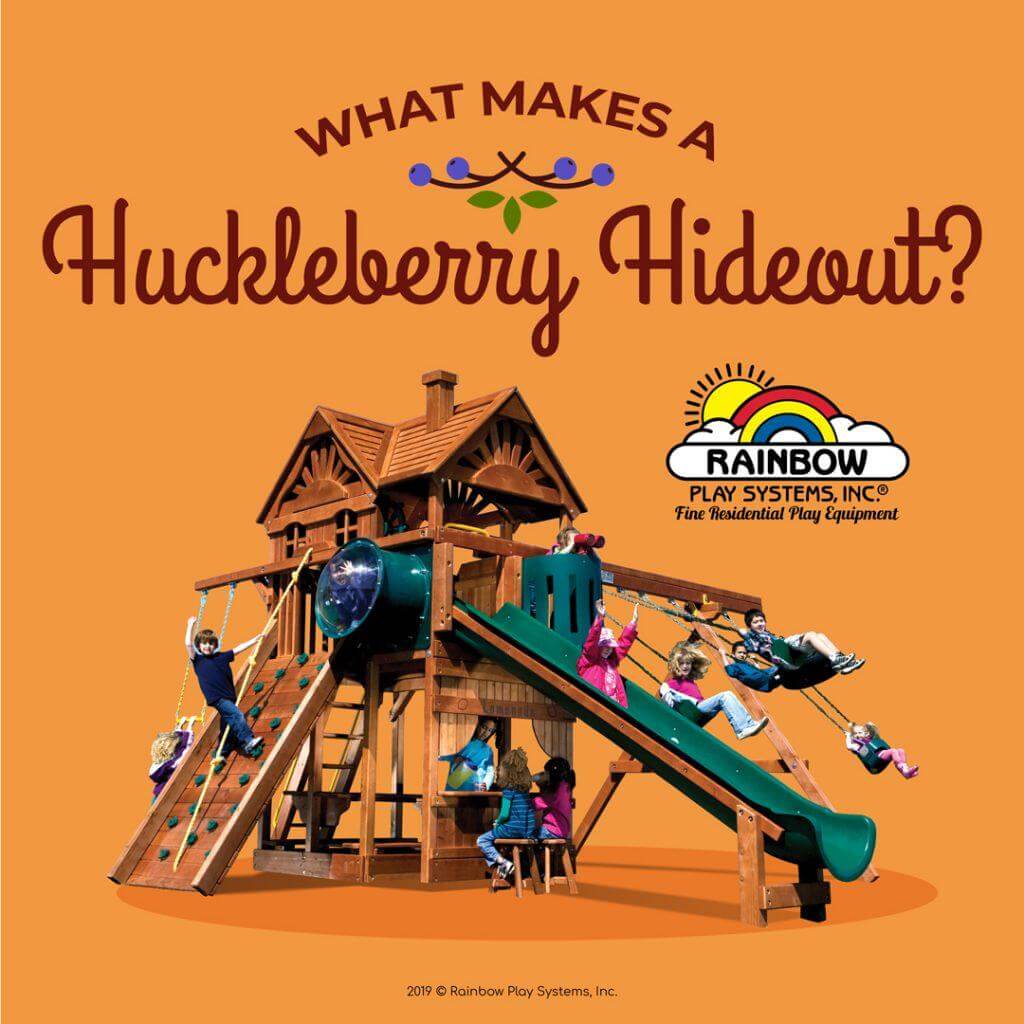 Get Cozy with a
Huckleberry Swing Set!

The word huckleberry invites adventure, like the beloved book character Huckleberry Finn, or the berry found in the forests of the northwestern states this time of year.
The Rainbow Play Systems Huckleberry Swing Set series promotes its own, child-like wonder and adventure with the use of add-ons, accessories, and aesthetics!


What Makes a Huckleberry Hideout
Swing Set so Cozy?
Monster Clubhouse Base – The Huckleberry Series starts with a Monster Clubhouse Base, with a deck height of 6' and a deck size of 5.2' x 7.8'. The perfect size for small and big kids alike!


–

Wood Roof with Chimney – The Deluxe Wood Roof with Chimney gives the swing set a cozy, rustic look, like a cabin found in a forest surrounded by lush pine trees.


–

Cabin Package – The Cabin package adds little details to the upper level, like windows below the wood roof and enclosed walls instead of the spindle rails.


–

Upper Level Add-Ons – The addition of small accessories like the Binoculars, Ships Wheels, or Telescopes can provide imaginative enrichment. Larger options like the Crow's Nest or Extended Bubble panel are more engaging and look great on a Huckleberry Swing Set!


–

Lower Level Add-Ons – Lower Level add-ons can enhance the aesthetics as well as the fun factor on the Huckleberry series! The Lemonade stand and Dream Theatre are outlets to provide meaningful interactions between children, or they can get cozy in their own space like the lower level playhouse!
Why Buy a Huckleberry Swing Set?
A Huckleberry swing set is made from natural cedar wood, giving them a cozy, rustic log cabin quality. With their large deck height, there's ample room for kids of all sizes and ages! It's the perfect swing set for big backyards, with plenty of room to play on both the upper and bottom levels. The Huckleberry is the right fit for parents looking for a wooden play structure that's both beautiful and fun!
August and September are Huckleberry season! Start picking the perfect Huckleberry for your family. Check out our selection of Monster Clubhouse Huckleberry swing sets.