Are Tire Swings Safe For My Child to Play With?
Tire swings encourage physical development resulting in better balance and coordination. It differs from other swings in that it spins in multiple directions keeping it fun and exciting! But even though it's fun, our priority is the safety of your child on our playsets. Let us guide you through tire swing safety to ensure your child experiences the full enjoyment of summer backyard fun!
Are tire swings safe?
Yes, tire swings are safe if constructed for durability and longevity with proper yearly maintenance, and Rainbow tire swings are designed for safety and long-lasting enjoyment. The Rainbow Exclusive Swing Set Beam is a long extended beam engineered for durability, balance and support, and it is a beam that can hold a variety of swings, including 2-Chain and 4-Chain Tire Swings.
Check out our Swing Set Swing Beams and Wooden A-Frame Stands that provide exceptional structural support for tire swings and other accessories.
How much weight can a tire swing hold?
The average suggested weight limit for a tire swing is between 100lbs to 175lbs. Rainbow Play's recommended weight limit on Rainbow's tire swings is as follows:
What size tire is safe for a tire swing?
You want to keep your child's age, weight, and height in mind when deciding on the size of the tire swing. The tire on Rainbow's tire swing measures 9" tall, and 24" wide with a 15.5" wide hole in the middle. Larger tire swings than this are not safe for small children.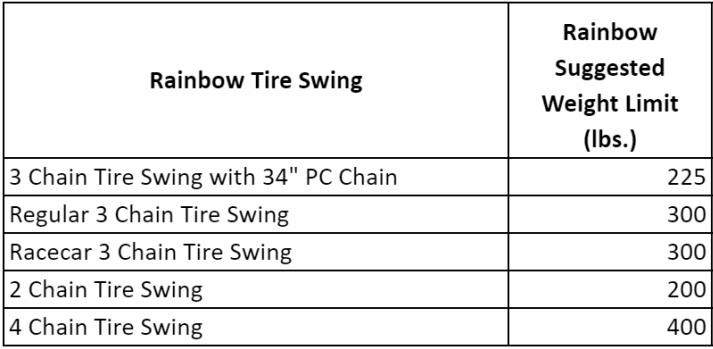 What kind of rope do you use for a tire swing?
Rainbow only uses 1" thick rope creating an easy-to-grab rope with huge knots & eliminates tangling. On our other swings, we use a heavy gauge chain with a plastisol coating creating a soft, pinch-free swing chain for children to hold on to. The plastisol coating also insulates from heat & cold.
Are tires safe to play with?
Checking to see if a tire swing is safe to play with involves checking several things.
Look for deterioration, wearing, or rust on all moving parts, including swing seats, ropes, and chains. These are easy to replace as needed.
It's essential to keep the tire swivel greased during periods of high usage.
Make sure to clean swing set components with soap and water.
Reinstall swing seats, which may have been dislodged during the colder months.
The hardware used on swinging components should be checked at least twice a month for safety.
Rainbow Play Systems Swing Set Manual provides more specific care instructions.
Ensuring your swing set is safe can be anxiety-provoking. In some locations, we offer maintenance packages where a professional comes to assess and determine if you need repairs done or components replaced.
Customization options are also available to ensure your swing set accommodates your child's abilities and is age-appropriate, creating a safe environment for summer-long fun!. A step-by-step process makes it easy to bring your child's dream swing set to life!