Enjoying Family Thanksgiving During a Pandemic

Celebrating with the New Normal
"When asked if my cup is half-full or half-empty my only response is that I am thankful I have a cup." – Sam Lefkowitz, Author
Thanksgiving has always been a time where family and friends gather around a table full of mashed potatoes, stuffing, green bean casserole, sweet potatoes, cranberries, roast turkey and pumpkin pie. The guests around our tables will most likely be a little slim this year due to the pandemic but there are still ways we can let all our family and friends know we are thankful for them.
Here are some ideas for having fun and celebrating Thanksgiving in this new normal.
Thanksgiving Turkey Leaf Luminaries:
Supplies:
8 ounce wide mouth canning jars
Real or fabric leaves
Mod Podge
Tissue or construction paper (brown, red, orange, yellow & white)
Foam brush
Google eyes
Directions for assembling your Turkey Luminaries can be found here, courtesy of Rhythms of Play
We've provided a template below for you to use if you'd like. We have even included the feathers and eyes just in case your children want to create their own. Or just print and cut the fully assembled turkey and your child can Mod Podge it on to their jar.

When your luminaries are dry  you can put a battery operated tea light candle inside. Or consider Fall colored candies from JustCandy.com or homemade goodies that you and your children made together.
If you fill a few with battery operated candles, be sure and set a few on your Rainbow Play System for some Thanksgiving decor! (We would love to see a picture!)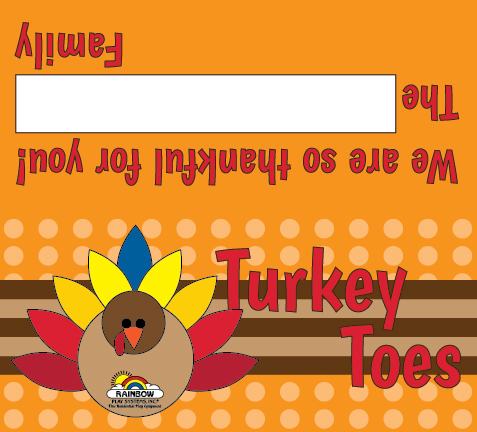 If you are looking for something a little less time consuming to do with your kiddos, fill ziplock baggies with Candy Corn, have your children fold in half and attach this label with tape or a couple of staples.
There are so many creative things you can do with your children this Thanksgiving. From making their own pilgrim hats to wear or cute and tasty little chocolate acorns, there are plenty of ways to make new memories with your children this year. There's a good chance that you will start a new family tradition with at least one of these options! Take a look at the list we've collected for you here.
When you've finished your handmade gifts, head out on a walk and deliver them to family, friends and neighbors! To make it more exciting, have your children set your Turkey Toes at the front door, ring the door bell and run back before the door is answered. They will get a huge kick out this!
Even though we won't be able to have everyone we love around our tables this Thanksgiving we still have a lot to be thankful for this year. As you celebrate with the ones closest to you, please keep health and safety in mind.
The CDC has a list of helpful ways to stay healthy and safe this Thanksgiving. These are their recommendations for lower risk to COVID19:
Having a small dinner with only people who live in your household
Preparing traditional family recipes for family and neighbors, especially those at higher risk of severe illness from COVID-19, and delivering them in a way that doesn't involve contact with others
Having a virtual dinner and sharing recipes with friends and family
Shopping online rather than in person on the day after Thanksgiving or the next Monday
Watching sports events, parades, and movies from home
For more information on staying healthy this Thanksgiving, visit the CDC's Website.