Safe & Durable Play Systems
Rainbow Play Systems has been building the safest play systems on the market for 36 years.
Safety is paramount when it comes to your children and we couldn't agree more. Rainbow Play Systems' playsets go the extra mile to provide your children a safe place to play, right in your own yard. Following are just a few of the methods that make Rainbow your safe choice.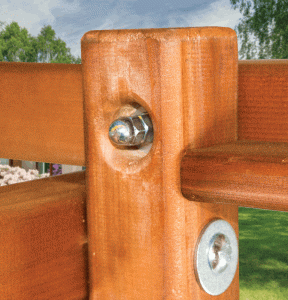 The structure of a Rainbow Play System is built with massive 4" x 4" & 4" x 6" beams. Beams are notched together, fitting wood into wood to give maximum support and reducing the force on the lag bolt that holds the beams in position. In addition, all nuts and bolts are set in recessed and routered holes, bolts have two nuts and are capped off with a smooth, round acorn nut. This creates a safe surface so your child doesn't get caught up on protruding hardware.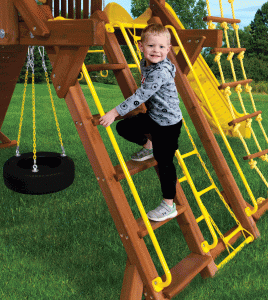 Ladders and Rock Walls are angled for easier and safer climbing. They are secured with wall brackets to create a "no lift" structure.
Rainbow Play Systems Safety Handles and Ladder Handles are Powder Coated, giving them a smooth, comfortable finish and enough grip that hands wont slip off. Powder Coating also insulates from the heat and the cold.
Our Swing Chains are dipped in Plastisol creating a soft, pinch-free swing chain for children to hold on to. Swings are hung using commercial grade ductile iron hangers. They are the most durable swing hanger ever created. Rainbow Play Systems Swing Hangers will never wear out. Mountain Climbing Carabiners are used to attach the chain to the ductile iron hangers. They are the safest method and widely used and recognized by mountain climbers as the ultimate in safety.
Every part of a Rainbow Play System is weight tested. For instance, did you know that our Sky Curve Platform Swing and 4 Chain Tire Swing have a suggested weight limit of 400 pounds? Even our half bucket swing is rated at 150 pounds. That's a lot more than you'd ever need for any of these but isn't it comforting to know your Rainbow Play System can handle it?
Rainbow Play Systems has a long list of safety features. If you would like to know more, contact your local distributor and request a catalog with all the safety details.
When you buy your children a Rainbow Play System, rest assured you've made the right safe choice.