Rainbow Play System's #1 Best Selling Swing Sets
Sunshine Castles Swing Sets
For 25 years Rainbow Play Systems has sold hundreds of Sunshine Castle swing sets to families looking for quality swing sets to add to their backyards. The perfect size for outdoor fun, it's one of the most replicated swing sets in the playground industry. Backed by safety, quality, and an exclusive Lifetime Warranty, the Rainbow Play System's Original Sunshine Castle is still the very best!
What Makes the Sunshine Castle a Family Favorite?
The Sunshine Castle is the perfect size for almost every family!  For 2018, the Sunshine Base Castle Pkg II (19A), is 24.5' long, and 12' wide, a great fit for even small backyards! With a deck height of 5', even the littlest kids can climb up to the top! The 8.5' swing beam leaves ample room for options and accessories like the brand new Hammock Swing, or Deluxe Glider! The Sunshine Castle is a wonderful swing set for all ages, children and adults alike!
The Sunshine Castle Swing Set is also the perfect combination of all primary play activities – Swinging, Climbing, Sliding, and Fun Fort. These elements are important during the physical development of any child, often strengthening gross motor skills, fine motor skills, balance, coordination, and dexterity.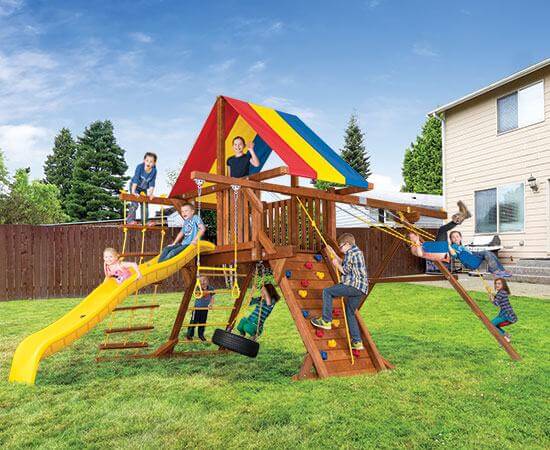 It's easy to add new options and accessories on the modular design of a Rainbow Play System. Keep kids challenged with the brand new Air Pogo Stick and Sky Curve Swing, or add Monkey Bars and a Penthouse for more climbing! Don't forget to include the 270° Tube Slide and make your Sunshine Castle a swing set with all the best bells and whistles!
Want your very own Rainbow Play System's Sunshine Castle? Click Here to request a catalog and contact a local dealer to customize your very own dream Rainbow today!