It's Playground Safety Week
It's that time of year! The birds are chirping, the sun is shining, and the kids are ready to get outside and play! When visiting your local parks and playgrounds, keep these safety tips in mind. Safe kids are happy kids!
Here are ways to play S.A.F.E at your playgrounds:
S is for Supervision
Always supervise your children at the playground and watch for potential hazards. Make sure you are able to see around trees or bushes, and can view the playset in its entirety.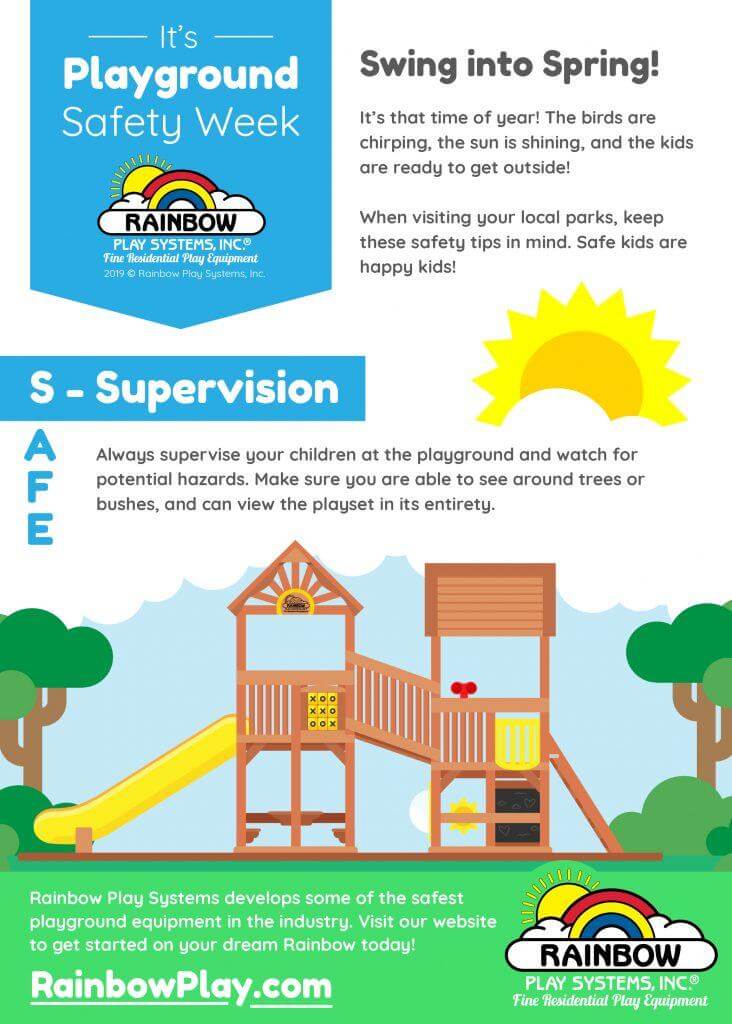 A Is For Age Appropriate
Young children (ages 2-5) should have their own age-appropriate play equipment, while school-age children should have their own play equipment in a separate area.
Toddler Age
For ages 2 to 5 years old.
Low to the ground.
Short slides and ladders.
Handles for balance.
Open play surfaces.
School Age
For ages 6 to teen.
Multiple deck heights.
Taller slides and rock walls.
Additional bridges and tunnels.
Open play spaces for picnic tables or sandboxes.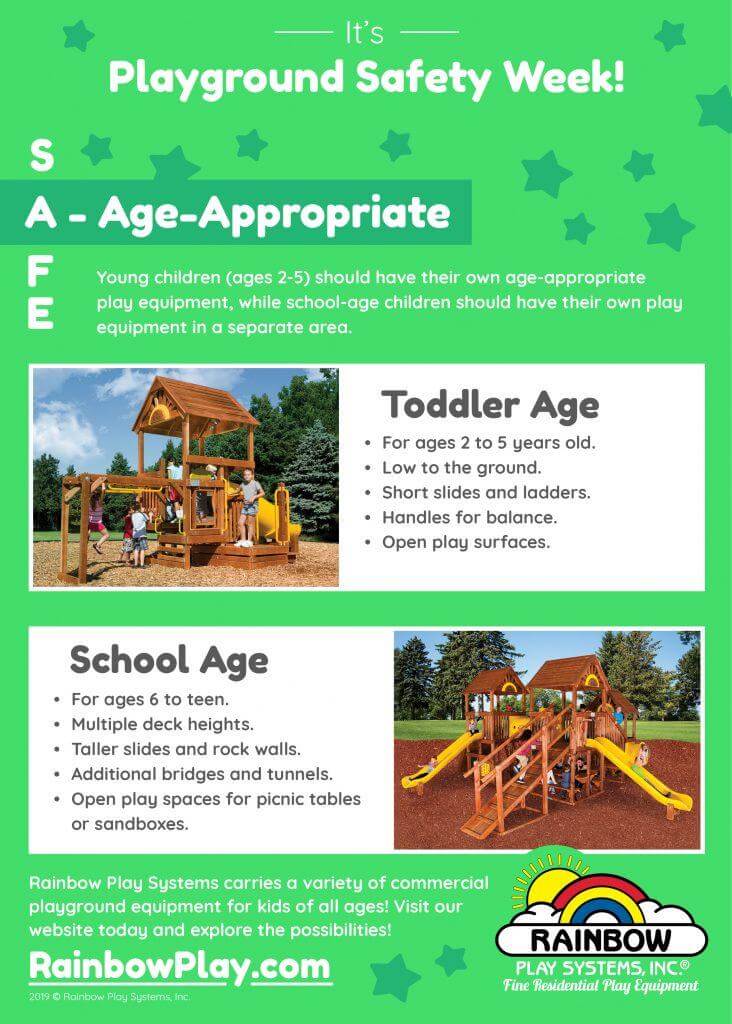 F is for Falls
Commercial playground surfaces should be designed to cushion children when they fall. Playsets anchored in concrete, pea gravel, or hard top are more likely to cause injury.
Surfaces
Some of the safest surfaces for playgrounds are rubber tiles, rubber mulch, and wood chips. They provide the most cushion, and are often more slip resistant.
Obstructions
Check for obstructions in mulch or sand, like large rocks, sticks, exposed footings, or anything that may protrude upwards and cause a running child to trip and fall.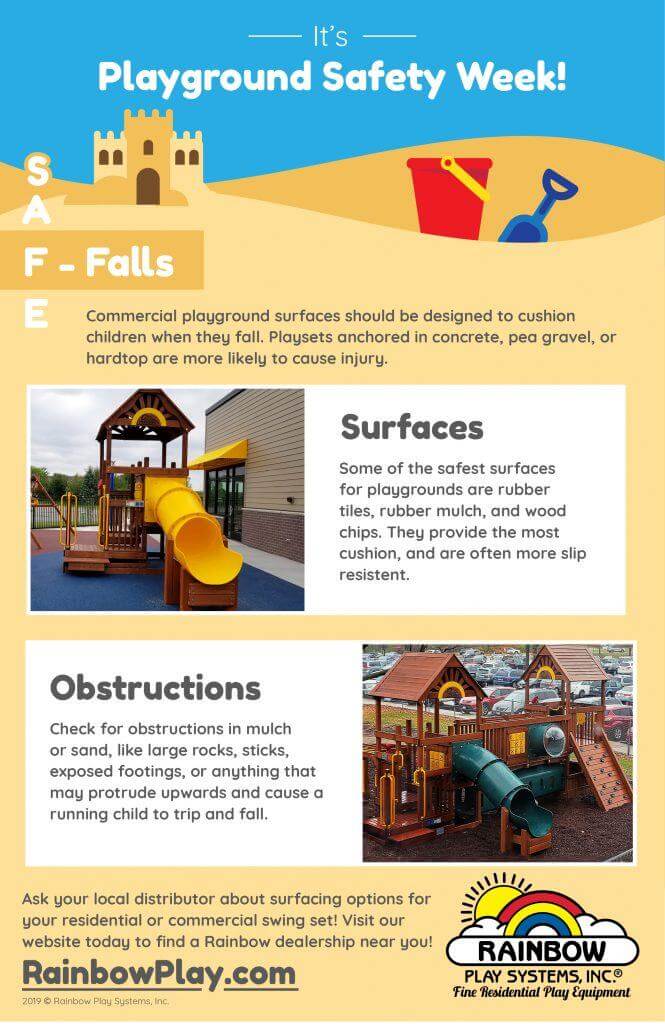 E is for Equipment
After a long winter, it doesn't hurt to double-check commercial playground equipment to make sure it is free of hazards and everything is in working order.
Bolts shouldn't be missing or protrude from  the play equipment.
S-hooks on swing accessories should be closed and not bent.
Spindle rails or walls should be attached securely to the playset.
Plastic pieces should be checked for cracks or weakness.
Monkey bars and swing beams should be checked for stability.
Screws should be tight and not loose on playground pieces.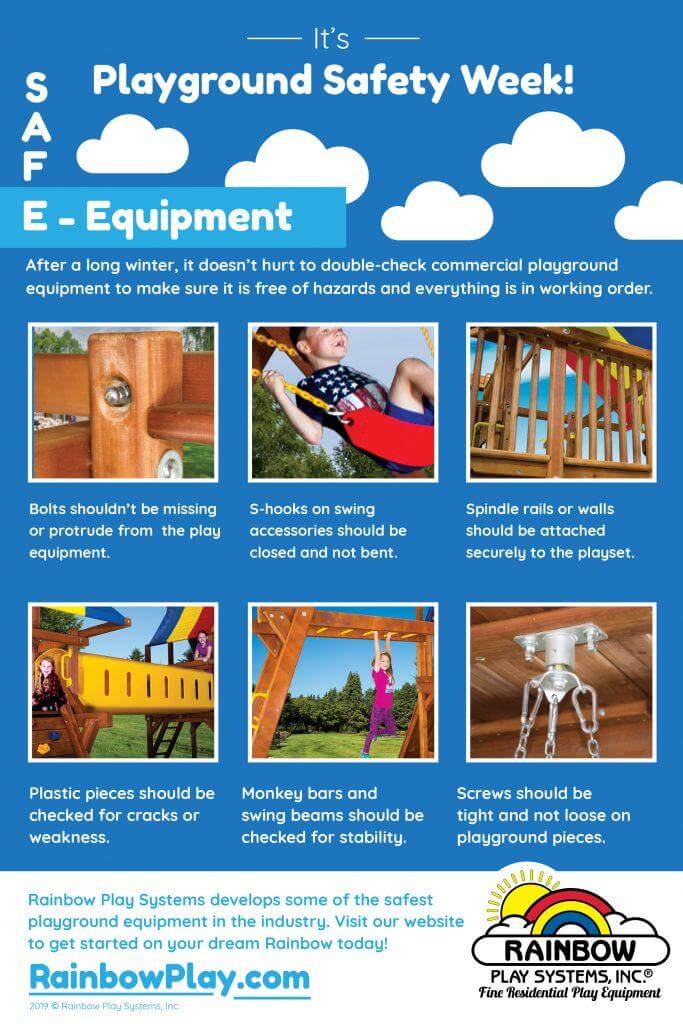 Rainbow Play Systems develops the safest swing sets and playground equipment in the industry. Visit our website to get started on your dream Rainbow Play swing set today!