National Safety Awareness Month 2017
June is National Safety Awareness Month!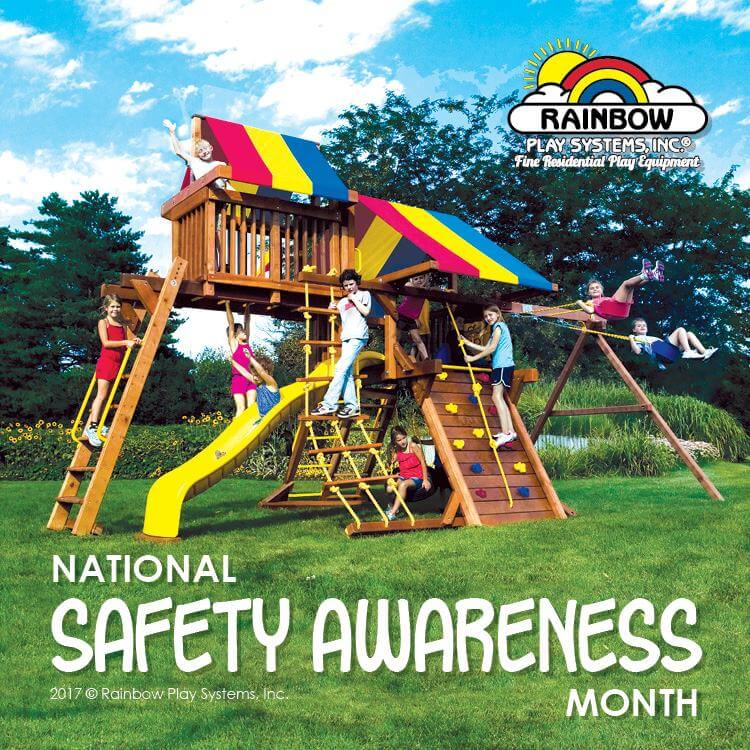 Rainbow Play Systems, Inc., the country's leading manufacturer of children's outdoor play equipment, wants parents, educators and communities to recognize the importance of National Safety Awareness Month this June.
Our primary focus is to always provide the safest playsets possible for children. We know safety is the number one priority of parents who are looking for the kind of equipment Rainbow provides. When building Rainbow swing sets, every safety consideration has been tested, evaluated and tested again.
Rainbow Play Systems Safety Features
Big Beam Construction – The foundations that are essential for a Rainbow Play System are massive 4"x4" & 4"x6" timbers, which are utilized as the main structural components.
Notched Beam Construction – The notches that are cut into each beam are designed to gain maximum stability and durability by bracing wood against wood, which greatly reduces the amount of stress put on bolts and hardware.
Recessed Safety & Capped Hardware – Protruding hardware can be a hazard, which is why all hardware is recessed back and capped. This is necessary as sharp edges or protruding metal components can cause injury.
Dual Bolt Construction – The tremendous rigidity of a Rainbow Play System is created through the use of dual bolt construction. Dual bolts provide more stability at their connection points when compared to single bolt construction.
Angled Climbing Components – All climbing components on Rainbow Play Systems are all set at an angle, which is easier and safer to climb than typical 90° ladders or rock walls.
Learn more about Rainbow Play Systems safety features!
Check List for Playground Safety

Surfaces around playground equipment should be filled with loose wood chips, mulch, sand or pea gravel. This greatly reduced the impact of falls.
Look for exposed concrete footings, tree roots, or rocks that could trip children.
Check for sharp edges and dangerous hardware, like open hooks or protruding bolts.
Make sure children are using age-appropriate equipment and supervise them during play.
Playgrounds should be maintained regularly, report any problems.
Buy sturdy equipment that will grow and change as your children become older.
Avoid equipment that has rings with a diameter more than five inches but less than 10 inches, as this can pose as an entrapment issue for a child.
Choosing a Safe Location for your Play System
The play system should be located on solid level ground free of objects that may cause injury such as tree stumps, roots, and large rocks.
Stationary components such as ladders and slides should be no less than six feet from any structure or obstruction such as fence, garage, house, tree or overhanging branches, electrical wires or clotheslines.
Any swinging equipment must be a minimum of twice of the height of the swing beam away from any structures or obstructions as specified above.
Do not install your play system near a lake, river, swimming pool or other water hazards.
If anchoring your play system, all underground utilities must be located in play zone before starting assembly of play system.
Try to locate slide out of direct sunlight to reduce likelihood of serious burns. A slide that faces north will receive the lease direct sunlight.
It is recommended not to place a set on sandy soil or loose fill as it may require additional anchoring in that situation.
Do not install your play system over concrete, asphalt, packed earth, grass, carpet or any other hard surface. A fall onto a hard surface can result in serious injury to the play system user.