Skillful Home Recreation & Granite City Rainbow Play Systems
Showroom Spotlight: Rainbow Play Systems of Massachusetts, New Hampshire and Maine
Skillful Home Recreation and Granite City Rainbow Play Systems invites you to pack up the family and visit us in Massachusetts, New Hampshire and Maine. We'd love to have you stop by to play on our Rainbow swing sets.
Rainbow Play Systems: Do you have a Rainbow Play Systems favorite memory?
Skillful Home Recreation: Sunday morning is typically a slow start at Skillful and after I opened the doors one autumn Sunday morning, I started back to my office, not expecting any customers right away. Before I got there, I heard the door open and turned to see two kids literally explode into the Showroom, shouting and running in opposite directions. I smiled and got the kids playing air hockey so I could talk with their parents. "What brings you in?" I asked. The Mom looked at the kids and nodded. "We have got to get these kids outside," she said, "they're driving us crazy!" I laughed, but the truth is, I've heard that more than once. "I think I may have the perfect thing," I said. They were able to find a play set, and with it gave themselves a little peace and quiet.
Rainbow Play Systems: How long has Skillful Home Recreation been in business?
Skillful Home Recreation: Skillful Home Recreation was founded in 1978 and we have been the proud owners since 2009. Since then we have helped hundreds of people find fun, relaxation and rejuvenation right at home.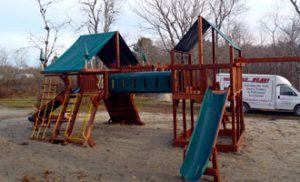 Rainbow Play Systems: What services do you offer at Skillful Home Recreation?
Skillful Home Recreation: A couple came into the store recently and spent most of a rainy afternoon playing in the showroom. They tried 3 or 4 pool tables before they settled on the perfect model for their family room, and afterward they played shuffleboard, ping pong and dome hockey. You could hear them laughing all the way back in the warehouse.
I overheard the man say to his wife, "This is the most fun store I have ever been in. Ever". It has since been our favorite customer quote.
It is really difficult to communicate in words and pictures what our products can do for you, your family and your life. You just have to experience it for yourself. And that is why we recommend that you to come in and play, imagine, dream and just try it out. Don't worry if you are not sure that you want to buy. Come on in to our beautiful showroom and while you are here, don't just look around… have a little fun.
Our beautiful showroom is the ultimate, interactive experience. Most of what we sell is available for play. We have a wide selection of Bullfrog Spas, Brunswick and Olhausen Pool Tables, Classic and Table games and much more right on the showroom floor. Typically we also have a Rainbow Play System set up.
Skillful Home Recreation
533 First Avenue
Portland, ME
granitestaterainbowplay.net
facebook.com/SkillfulHomeRecreation
instagram.com/skillful_home