Transform your kids' playset from ordinary to extraordinary with new playset accessories from Rainbow Play! Choose from a bounty of bells and whistles such as binoculars, sandboxes, bubble panels, penthouses, tic-tac-toe panels, and countless other exciting additions! We offer new playset accessories for both Rainbow Play Castles and Clubhouses, as well as universal options for both, including swings and slides for growing children.
Check out a few of these great upgrades that'll leave kids in awe:
Castle Playset Accessories
Add great new accessories to Castle playsets to make them even cooler! Some of these options may even help stabilize the swing set in uneven terrain.
Super Castle Upgrade
Talk about an upgrade! Take your existing playset and supersize it, giving your kids more room to pack in all the fun. Make your Circus Castle a whopping 45% bigger, expanding the play area from 5.2′ x 5.2′ to 5.2′ x 6.8′. Thank goodness for the added play space and oversized canopy, because your kids will certainly invite a bunch of friends over to get in on the excitement!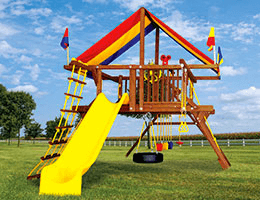 10′ Crawl Tunnel
Connect one tower to another with this awesome crawl tunnel! Whether your kids use it as a passageway or a new hangout spot, this upgrade will be the talk of the neighborhood! This is a great way to make the most of two playset structures, making sure they're both put to good use.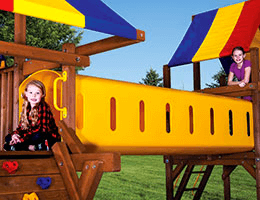 Clubhouse Playset Accessories
Can you believe your Clubhouse can be any better? It's hard to fathom, but it's true! Just check out these exciting new accessories!
Clubhouse Sandbox
Adding a sandbox to your Clubhouse will ensure hours of creative fun! Your kids will love making sandcastles, volcanos, and embarking on treasure hunting adventures. Not only does this make great use of the space below your playset, but it also provides a nice, safe shaded area for summer play.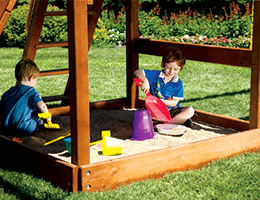 General Store Panels w/ Lower Level Floor
Lemonade stands beware! There's something a little cooler coming to town. Upgrade your Clubhouse with an adorable general store and get those creative juices flowing. No matter what your kids start selling, you'll buy into the fact that this is a tremendous new accessory to your playset.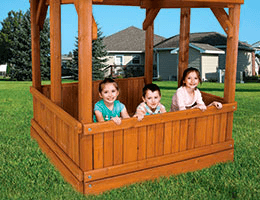 Universal Playset Accessories
Rainbow Play Systems' universal accessories can fit onto Castles, Clubhouses and more! Explore these spectacular options to take your playset over the top.
Accessory Pack
Want to revamp your playset in one fell swoop? Look no further! This pack includes a ship's wheel, binoculars, a periscope, safety handles, and a Grab-N-Go Bar. Affordable and easy to install, these upgrades just make sense!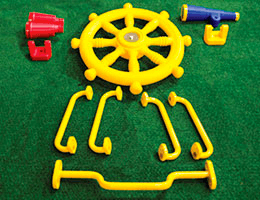 Tic-Tac-Toe Panel
There's always room to squeeze in a little more fun and lighthearted competition. This panel fits right into Castles and Clubhouses and makes use of empty wall space! Add this exciting tic-tac-toe accessory to your playset to keep the good times rolling.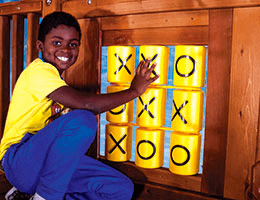 Swing Beam Options
Whether you're looking for space to add swings or to replace an existing swing beam, Rainbow Play Systems offers the perfect solutions to make the most out of your playset.
4 Position Swing Beam
Always have room for one more kid! This swing beam has space for three swings in the middle — plus an additional swing on the far end — so everybody will get in on the fun! No more arguments or hurt feelings on who gets to swing away. That's a parenting win!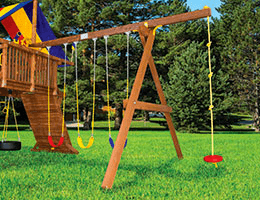 Unlevel Yard Extended A-Frame Leg
Have an uneven playset or yard? Rainbow Play Systems has the solution! Make sure your playset is safe and secure for your beloved kids. Upgrade to this extended A-frame leg to add stability to your structure.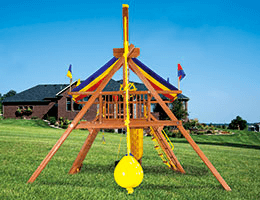 Swinging Options
What's a playset without great swings? If you're in need of new or more exciting swings, Rainbow Play has you covered.
Ship Swing
There's no cooler swing than this one! The Ship Swing is an easy way to make your kids' playset far more unique and exciting. Complete with colorful flags and enough 'deck space' for two, this new accessory will blow all other playset swings out of the water!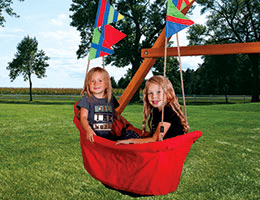 Hammock Swing
Great for relaxing and even better for swinging. There's no way to go wrong with this one! Imagine all of the hours of fun your kids will have hanging out on this great new playset accessory.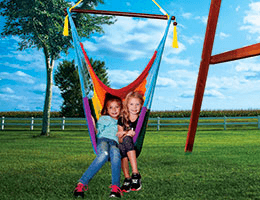 Feeling inspired already? Wait no more! Jump to our website and check out the full selection of playset accessories right now. Or, keep on reading to view more of our hand-picked favorites!
Monkey Bar Options
Swing for the fences by adding one of these awesome new monkey bar accessories to your playset!
Super Monkey Bars
These thrilling monkey bars are 56% wider than normal! That counts for at least 56% more fun! That's enough room for monkey bar races with friends, or any other games your kids can come up with!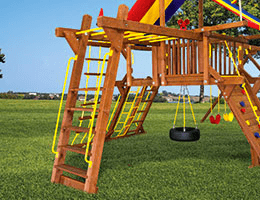 Dual Shimmy Bars
Kind of like monkey bars, but maybe even better? These bars add an exciting twist to your playset, running the length of your monkey bar set instead of across the wooden beams. Have your kids try out these dual shimmy bars for a challenging twist!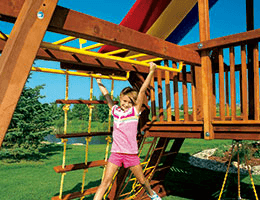 Penthouse Options
These smartly-designed penthouses are sure to elevate your playset to the next level!
Circus Penthouse
There's so much fun packed into this penthouse, you're not gonna believe it! A striped canopy, a tic-tac-toe panel, and openings on either end for peeking out at the world below? This is a must! Imagine your kids camping out in here for hours, giggling the day away.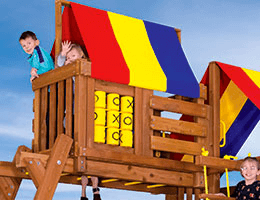 Monster Wood Roof Penthouse
Nothing's quite as stunning as this wood roof penthouse, featuring beautiful wooden shingles. Extra durable and attractive, this is the Cadillac of playset accessories. Your kids will feel like they've found a little home away from home.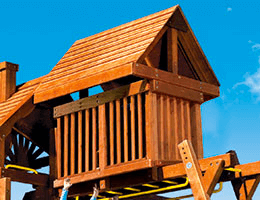 Slide Upgrade Options
The more exciting the slide, the more exciting the playset! Explore these great slides to give a serious new upgrade to your playset!
10′ Wave Slide Yellow
What's not to love with this wavy slide? It's fun, unique, and a perfect size for smaller playsets! The waves will keep your kids coming back for more and more, getting hours and fun and exercise.
360° Spiral Slide
Make a complete rotation as this giant slide coils around a full 360 degrees! It's fun, safe, and will make your playset the envy of kids across the neighborhood. Why go to the park when the coolest slide around is in your backyard?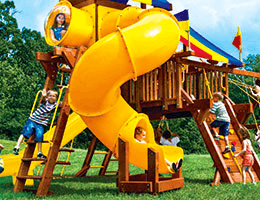 Ship Playset Accessories
The Rainbow Play Systems Ship Playset is one of the coolest playsets around, but that doesn't mean it can't get even better! Explore these awesome new accessories!
Ship Waves & Anchor
Bring your ship to life with this one-of-a-kind accessory! Look to see the waves crashing against your ship, as a huge anchor hangs off the side ready to drop! Your little pirates will feel like they're sailing the seven seas.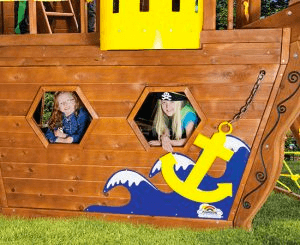 Ship Rope Cargo Ladder
Nothing screams 'old ship' like a cargo ladder! Not only does this accessory look the part, but it's tons of fun to climb on! It's the perfect way to make your ship playset come to life with an interactive, engaging accessory.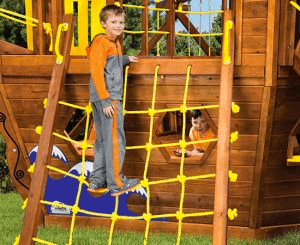 Explore all of Rainbow's playset accessories and find the perfect addition to your outdoor escape!