Part Two – What's New in Swing Sets 2017
In our continuing story about new swing set designs this year, we bring you, Part Two of What's New in Swing Sets 2017. This year has brought some wonderful changes at Rainbow Play Systems! To start from the beginning, read Part One – What's New in Swing Sets 2017.
Here is what's new with many of our swing set designs:
Fiesta Castle swing sets: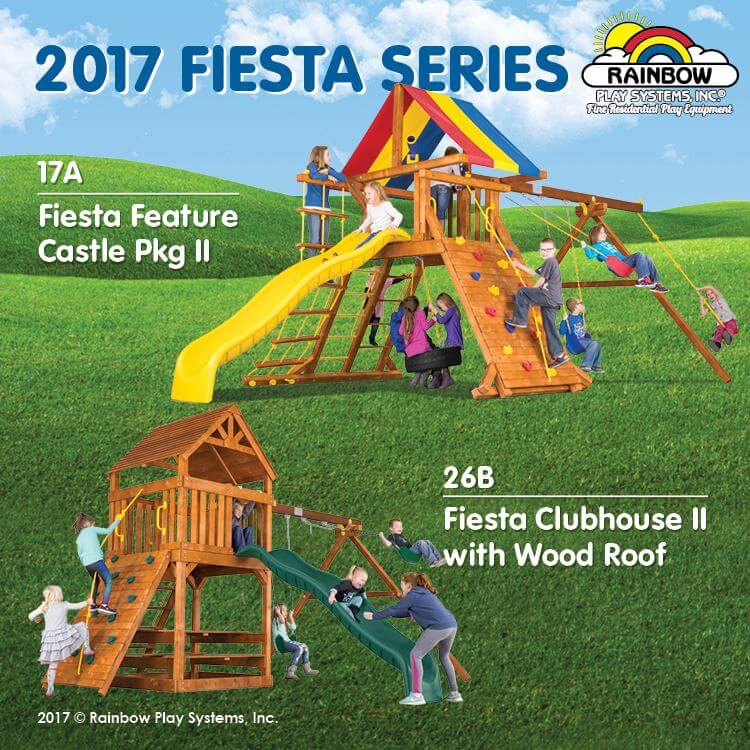 Fantastic entry level Castle style design. Built for value with standard thickness construction detail. Available with all Swing Beam variations.
All four of the primary play activities are included: Swinging, climbing, sliding, and a fun fort.
Designed to be semi-modular.
Full 5′ Deck Height, 8′ Swing Beam Height and 10′ Slide Length.
Great Design for a smaller sized yard.
Perfect for families with younger children
Fiesta Clubhouse swing sets:
Our Fiesta Clubhouses are exceptional models in our 2017 lineup. Incredibly versatile, our Fiesta Clubhouse is the "best bang for the buck" in the industry. Available with all Slide variations, Swing Beam variations, Roof variations and Color combinations.
25% larger deck and picnic table than the 2016 Fiesta Clubhouse.
Fully modular and expandable.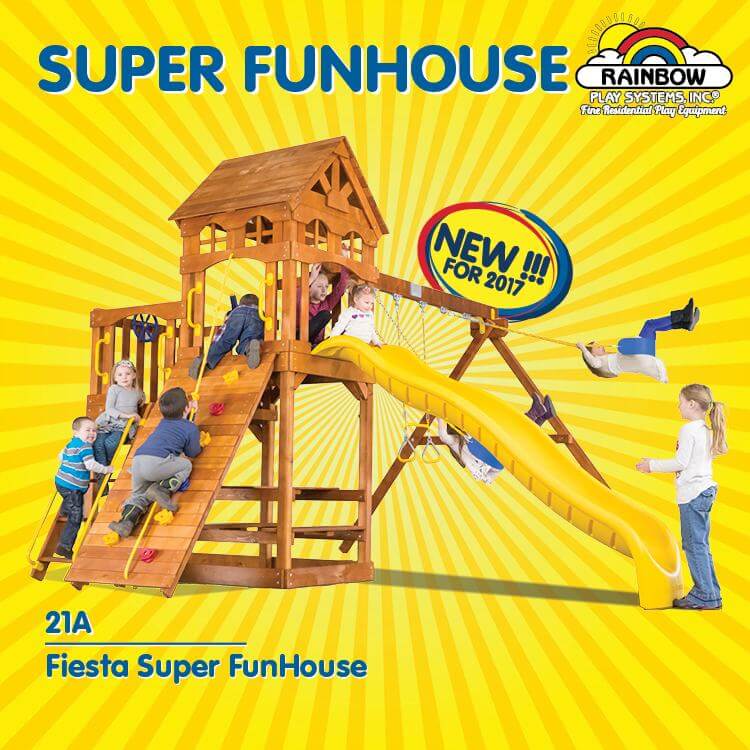 Super Funhouse swing sets:
Our 2017 Fiesta Super Funhouse is new and improved over the 2016 Super Funhouse, with a taller Fort, taller Swing Beam, longer Slide, Picnic Table, bigger Rock Wall and bigger Step Ladder with 10 play activities included, The Fiesta Super Funhouse is an all-inclusive design that is non-modular and non-expandable because all the most popular features are already included.
Carnival Castle swing sets:
Our Carnival Castle offers incredible play value and is our overall "best bang for the buck" Series. Available in numerous designs and color combinations with full access to all options, add-ons and accessories! Fully modular and fully expandable.
25% larger deck than Fiesta Castle
12″ more headroom than Fiesta Castle
Rainbow Style husky 3″ x 6″ Main Beam
Includes Accessory Arm equipped with Trapeze/Triangles Combo that is not included on the Fiesta Castle
Can expand with Monkey Bars, Penthouse and 270º Spiral Slide that is not available on the Fiesta Castle.
Carnival Clubhouse swing sets: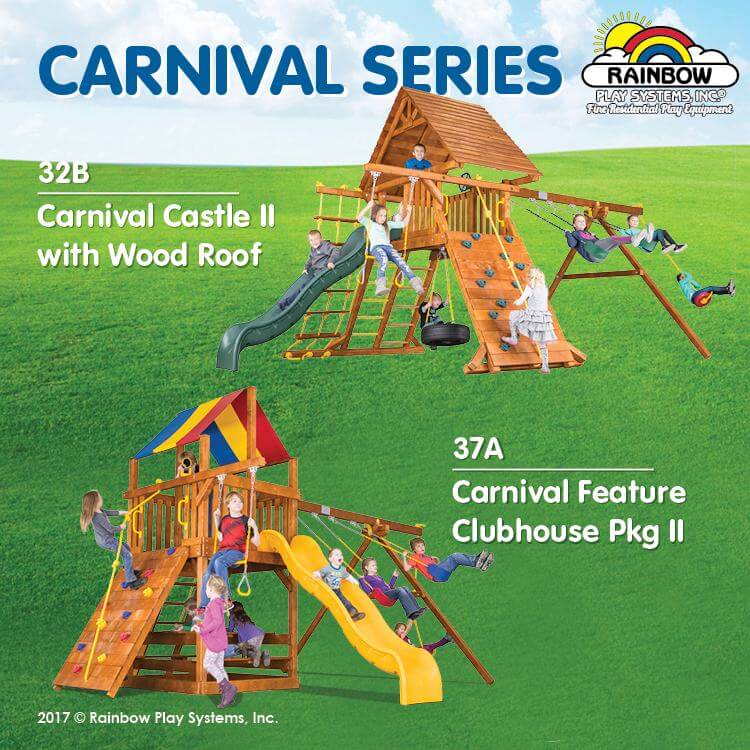 Introducing our Brand New Carnival Clubhouse Series. This Series features our full Rainbow style 100% modular, 100% expandable and access to many more options than the Fiesta Clubhouse. Plus unique options including, Lower Level Playhouse, Ramp and Upper Level Cabin.
Rainbow style 3″ x 6″ timber main beam with notched support brackets.
Unmatched versatility and design freedom from all 4 sides.
Rock Wall and Picnic Table are not automatically included like the Carnival Clubhouse which creates more ways to customize
Turbocharged Carnival Clubhouse swing sets:
Start with our Carnival Clubhouse and Turbocharge it.
4″ Taller Deck
4″ Taller Swing Beam
6″ Longer Slide
Bigger Rock Wall
More Picnic Table Headroom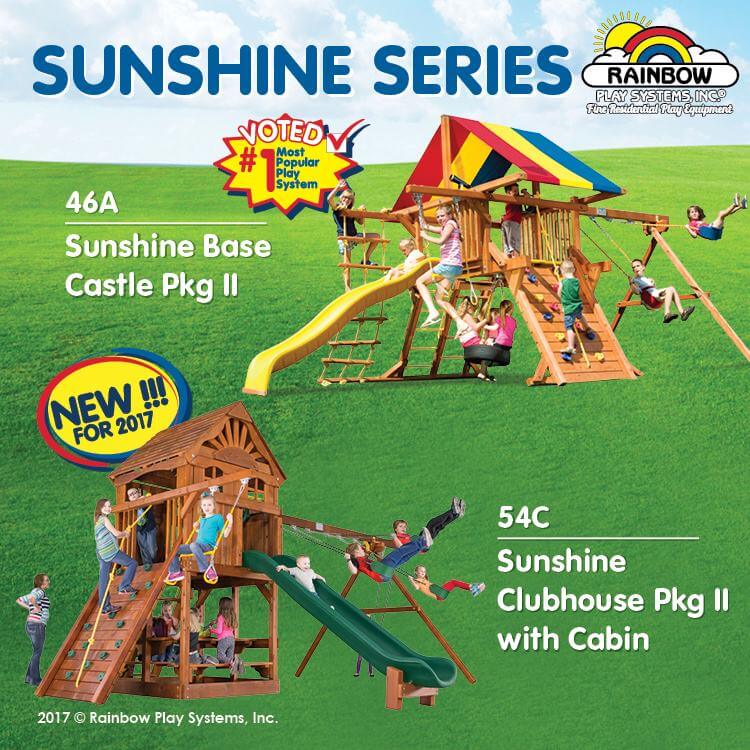 Sunshine Castle swing sets:
Our #1 Best Seller for three decades is the Sunshine Castle. Our Sunshine Castle has the same deck size as our Original Rainbow Castle. Our Sunshine Castle is the most replicated swing set design in the Residential playground industry. Ours is the original and the best.
Sunshine Clubhouse swing sets:
Incredible Versatility and Design Freedom! Combine that with clean architectural lines and you have the Sunshine Clubhouse. For three decades, families all across America have designed their own Clubhouse utilizing our Sunshine Clubhouse as the base – there are literally 100's of variations.
Rainbow Castle swing sets: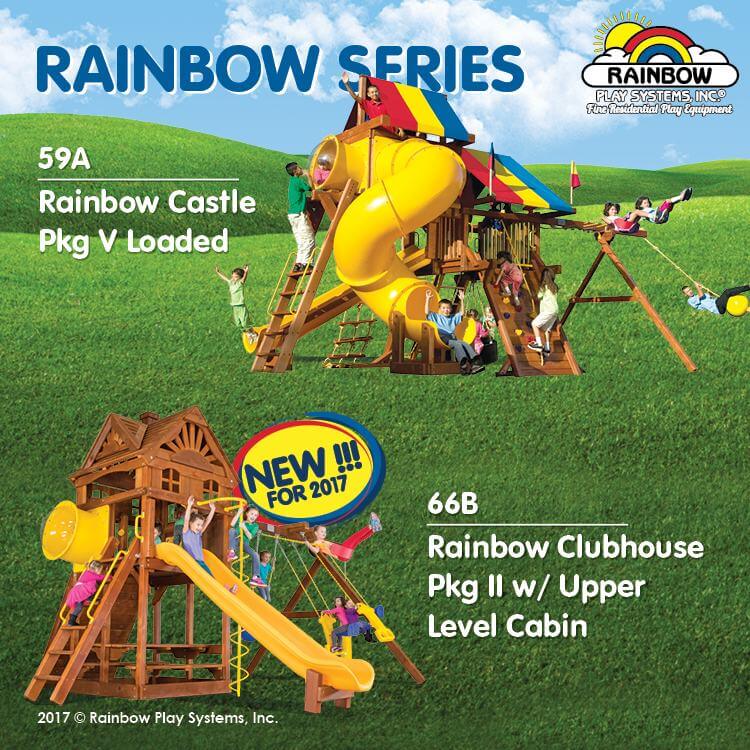 Presenting the: Original Rainbow Castle Climber® Built to last a lifetime and keep your children safe, happy and active throughout their entire
childhood. Compared to our super popular Sunshine Castle, our Rainbow Castle has 4″ taller deck height and 4″ taller Swing Beam height.
Rainbow Clubhouse swing sets:
The Original "BIG" Clubhouse! The Rainbow Clubhouse is the gold standard in quality, safety and beauty with so many ways to customize and so many features to add on later. The original modular and expandable Rainbow Clubhouse has stood the test of time – a true classic.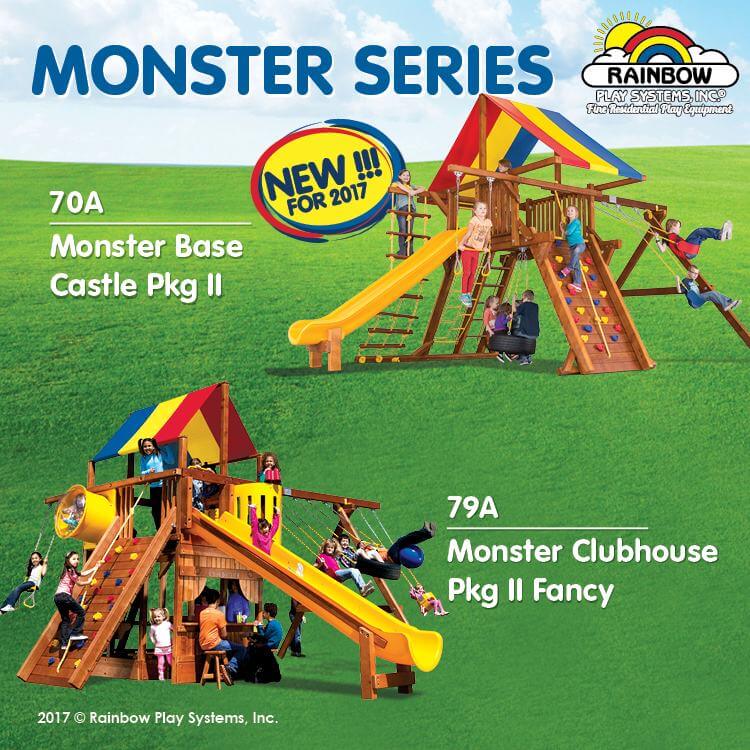 Monster Castle swing sets:
Built Like a Tank! Compared to our Original Rainbow Castle, our Monster Castle has a 4″ taller Deck Height and Swing Beam. Boasting a Swing Beam Height of 9′ tall as well as massive 4″ x 6″ Timber Ladder Legs and A-Frame Legs – nothing compares to the Monster Castle! A big kid's dream – you must see our Monster Castle in person to truly appreciate its sheer size.
Monster Clubhouse swing sets:
Our Monster Clubhouse is 50% Bigger Than Our Rainbow Clubhouse. It has unmatched versatility, combined with a huge 5′ 10″ tall deck, a 9′ tall swing beam and a 11′ long Super Scoop Slide. The Mother of Clubhouses is massive in size, yet balanced and good looking to
compliment your backyard play area.
King Kong Castle swing sets: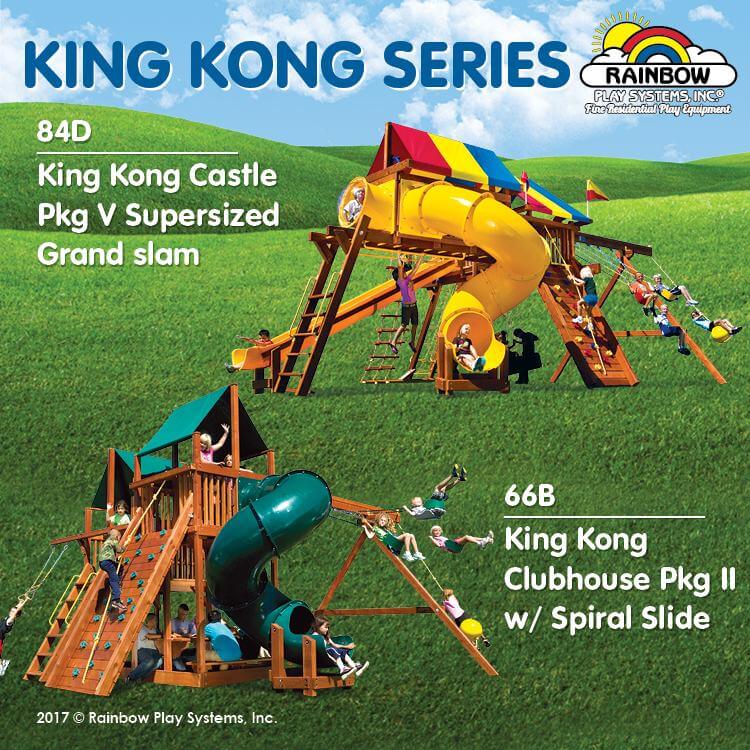 Our King Kong Castle is Sky High. Featuring a 10.5′ Tall Swing Beam! Take our Original Rainbow Castle to new heights with a 20″ taller Deck Height and 20″ taller Swing Beam Height to get our King Kong Castle. The King Kong Super Scoop Slide is an incredible 15′ long! Massive 4″ x 6″ Timber Castle Ladders support the King Kong Castle – our biggest castle and the biggest castle in America! It's absolutely unbelievable!
King Kong Clubhouse swing sets:
The King Kong Clubhouse is the Biggest Clubhouse in America!
A double decker fort with a 7′ 2″ tall top floor and a 5′ 2″ tall second level. The swing beam is 10.5′ tall
Incredible! The Super Scoop Slide is 15′ long
Outrageous fun! Endless design possibilities, a great structure for families with big kids and little kids.
Read more about what's new in 2017, start from the beginning, Part One – What's New in Swing Sets 2017.
Find your local showroom today to see the new swing sets in action and give them a try!
Or, to see and learn more, order a design book catalog today!