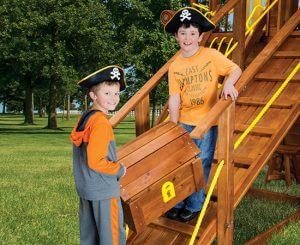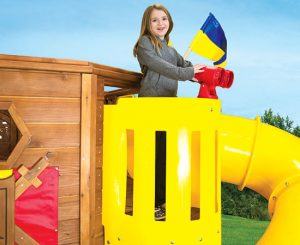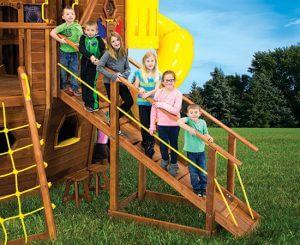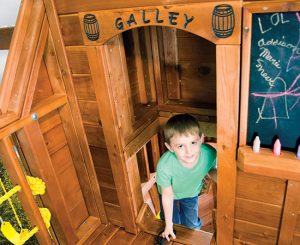 62 Square Foot Captain's Quarters (10″ Deck Height)
65 Square Foot Sun Deck (62″ Deck Height)
34 Square Foot Stern Deck (86″ Deck Height)
15 Square Foot Captain's Bunk (29″ Deck Height)
6 Spindle Rails
Chalkboard Station
Tic-Tac-Toe Panel
Ship's Wheel
2 Binoculars
Megaphone
Telescope
2 Pair Plastisol Dipped Safety Handles
15′ Scoop Slide
Plastisol Dipped Grab-N-Go Bar
4 Position Swing Beam
Plastisol Dipped Swing Beam Brackets
Swing Beam Riser Block
4″ x 6″ Timber A-Frame Legs
3 Pair Commercial Swing Hangers
Sling Swing
2-Chain Tire Swing
Trapeze w/ Buoy Ball
Knotted Rope w/ Buoy Ball
Monkey Bar w/ Shimmy Bars
Easy Climb Monkey Bar Support w/ Handles
32″ x 90″ Penthouse
Banner w/ Shield & Swords
2 Crow's Nests
Gang Plank
Rope Cargo Ladder
Mast w/ Tarps & Flags
Nautical Bell
Solar Lights
Treasure Map
Galley Window w/ Stools
Waves & Anchor
Customize Your Rainbow!
See all of the add-ons you can add to your Rainbow for a lifetime of fun!
Let them try the Ship!
Visit your local showroom to experience the Rainbow difference. Climbing and swinging is encouraged!