April 2017 Featured Playsets & Swing Sets
April is here, bringing rain showers for more flowers. Get ready for summertime fun and get the kids their very own backyard swing set. Here are some of our favorite swing sets for April 2017. Rainbow has a variety of outdoor swing sets in all shapes and colors that can be custom designed for your family, space and children's needs.
31A Carnival Castle Package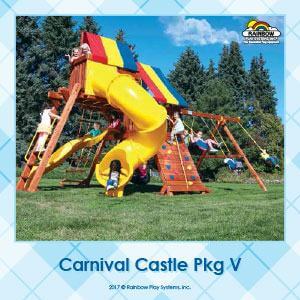 Have a smaller yard but still want a lot of options? Not a problem with this Carnival Castle. Measuring at 27' Length x 15.5' Width, it still has plenty of options to keep your little ones happy for hours. With both a 10' Wave Slide and a 270º Spiral Slide, plus a 31" x 58" Penthouse above Monkey Bars, 360º Tire Swing and a 4 Position Swing Beam the fun is never ending.
60D Rainbow Castle Package IV Supersized
This Supersized Castle Castle Fort space, measuring at 5.2' x 7.8', is bigger than our standard Castle Fort, measuring at 5.2' x 5.2'. This Rainbow Castle also has a Monkey Bar with Dual Shimmy Bars, 11' Super Scoop Slide, 360º Race Car Tire Swing  and a 4 Position Swing Beam with 3 Sling Swing and a Knotted Rope with Buoy Ball.
78A Monster Clubhouse Package II Unique Spacesaver
This large unit has a compact footprint, measuring at 18' Length x 21' Width, and still big on fun. The Monster Clubhouse features a Lower Level Playhouse with a Door and Floor, Rock Wall, Step Ladder, 11' Super Scoop Slide,  180º Crawl Tunnel and 2 Position Swing Beam.
96A The Palace Package II
What kid doesn't want their very own Palace. Your little princess or prince is sure to have all sorts of adventures playing on the two level Palace with a Rock Wall, Ramp, Draw Bridge, 10' Scoop Slide and 3 Position Swing Beam with two Sling Swing and Knotted Rope with Disc. Plus they can use their wild imaginations for all the shows that they can put on with the Theatre Panel with Stools.
Rainbow is sure to have a swing set perfect for you and your family. All of our swing sets are available in the Red, Yellow & Blue Canopy, Forest Green Canopy, or Wood Roof options. Contact your local showroom today. Find a Rainbow Showroom here.