WE MANUFACTURE YOUR RAINBOW WITH PRIDE IN THE HEARTLAND OF AMERICA, BEAUTIFUL BROOKINGS, SOUTH DAKOTA AND SHIP TO OUR OVER 200 RAINBOW SHOWROOMS WORLDWIDE.
Why should you choose a Rainbow Play Systems swing set?
Rainbow Play Systems has over 30 years of Building Childhood Memories® and with more than 200 swing set designs to choose from, it's easy to see why we're America's Most Trusted Brand Name. And, if that's not reason enough, you can dig a little deeper into our history, safety features, warranty and more.
We applaud you for being a cautious parent and you'll be happy to learn that we are too. Our commitment to safety, durability, and fun is what makes Rainbow Play Systems the best residential swing set manufacturer in the country. But don't take our word for it, you can find everything you need to know for yourself right here.
PROUDLY MANUFACTURED IN
THE UNITED STATES OF AMERICA
SUPPORT AMERICAN CORPORATIONS & AMERICAN JOBS!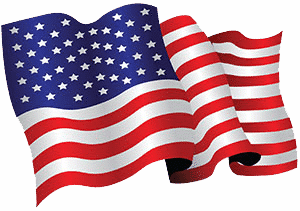 Rainbow Play Systems, Inc's Company History
From Beautiful Brookings, SD to Your Backyard… Rainbow Play Systems: over 30 years of quality swing sets Thanks to families like yours, Rainbow Play Systems has grown from a small custom job shop in Minnesota to a high-tech swing set manufacturing facility. Today, there are more than one Million Rainbow Play Systems swing sets in backyards across the world.
While the scale of our swing set operation has changed over the last 30 years, our focus remains paramount – creating the safest, most durable and highest quality swings sets available in America.
Company overview:
Established in 1985
675,000 sq ft manufacturing facility
150 employees
200+ dealerships around the world
250+ Showrooms around the world
100+ swing set accessories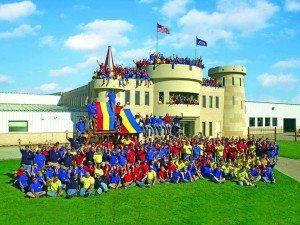 Rainbow Play Systems offers nationwide delivery and professional swing set installation.
Your time is valuable! Let us sport the tool belt and power tools! If you are a building wiz, no problem, but if not, have no fear…Rainbow Play Systems is here. Our swing sets are shipped to more than 200 Rainbow hometown showrooms nationwide where our specially trained installers are ready and waiting to build your family's dream swing set.
Even unlevel backyards can have a safe Rainbow swing set.
Residential yards come in all shapes, sizes and soils, and one swing set configuration is not going to work in every backyard. Rainbow Play Systems offers a huge selection of swing set options, including solutions for hard-to-fit, uneven backyards. Rainbow has developed an exclusive line of swing set components such as extended swing set ladders and A-frame swing set legs to make sure you have a safe and sturdy swing set structure to fit an unlevel play area.
Extended Castle Rock Wall Ladder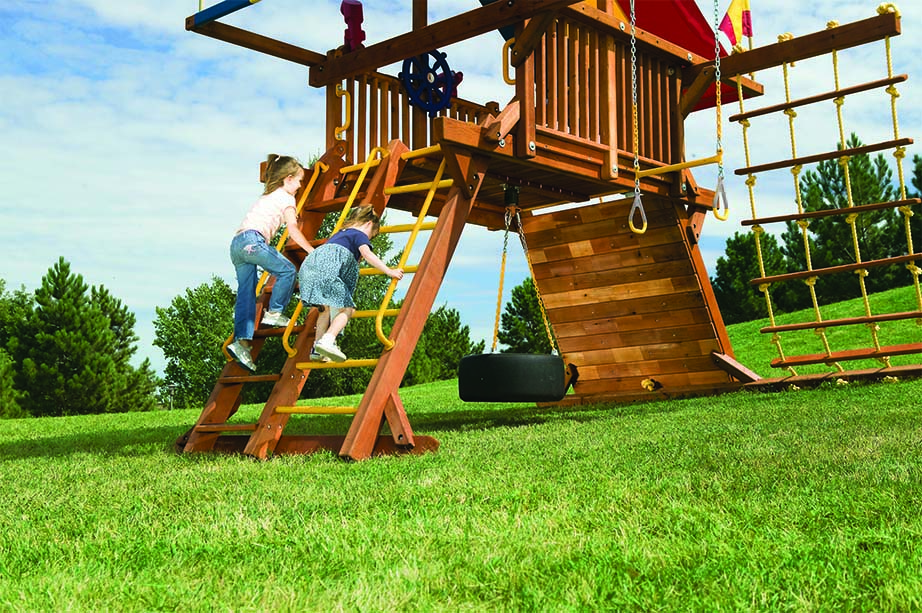 Extended Castle Step/Rung Ladder
Extended Legs for Slides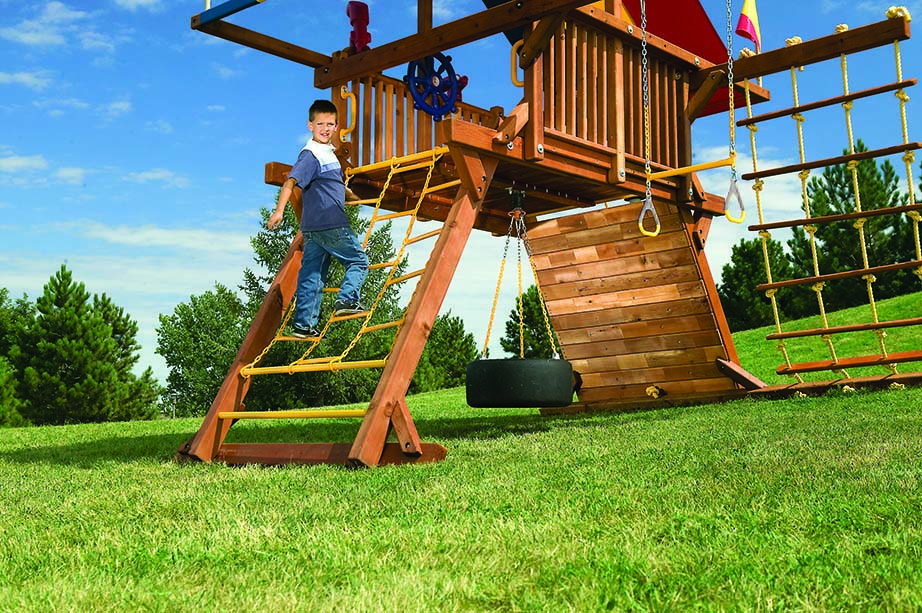 Extended Castle Chain Ladder
Extended Monkey Bar Support
Extended A-Frame legs
Rainbow swing sets outshine the competition in safety and durability every time.
Rainbow Play Systems swing sets are a once-in-a-lifetime purchase. We invite you to visit one of our showrooms–or a friend's backyard–so you can see, touch and experience the quality and magic of Rainbow swing sets firsthand.
Rainbow Play Systems GUARANTEES that every wooden component on our swing sets is made from 100% Certified Cedar. We are 1st in quality and materials. All Rainbows are made from hand selected wood to ensure the finest quality. More than 10 Rainbow employees will have inspected every wooden part through our manufacturing process.
Our Cedar Collection is not only big on value but big in size as well! For over two decades our Fiesta, Circus and Carnival Series were designed to be "little Rainbows" when compared to our Sunshine, Rainbow, Monster and King Kong Series of the Original Rainbows. Each play system is constructed from 100% Western Red Cedar from Canada, Pacific Cedar from China, and Yellow Cedar from Alaska. Rainbow is always dedicated to being environmentally responsible by teaming up with SFI Certified mills that harvest utilizing the Sustainable Forestry Initiative.
Grab any Rainbow Play Systems swing set and try to shake it. Rainbow structures are rock solid. Now try the grab-and-shake test on other swing sets; where children's safety is concerned, lightweight, wobbly swing sets simply aren't going to cut it.
Is the playset adjustable for unlevel yards?
Rainbow Play Systems offers flexible swing set designs that can be adjusted to safely fit unlevel yards. We'll use extended ladders and A-frame legs to create a stable, safe structure for your swing set.
Avoid unstained wooden swing sets.
All of Rainbow's hand-selected swing set lumber is sealed with our exclusive 10-step water seal process. Many other wooden swing set companies use either unstained wood or lumber that has been wiped, brushed or dipped with a stain which produces an uneven finish. Rainbow's exclusive 10-step water seal process always provides a consistent finish for a beautiful swing set.
Read the warranty carefully.
Avoid pro-rated warranties. The Rainbow Warranties are the best in the industry.
Inspect the swing set for protruding hardware.
Protruding hardware creates a safety hazard. All Rainbow Play Systems swing set hardware is recessed and capped to protect active, little bodies from scrapes, scratches and clothing hang ups.
Don't accept on-site swing set ladder assembly.
All Rainbow swing set ladders are pre-assembled at our factory using a hydraulic press for safe construction. Unassembled ladders that you have to pound together will not be as durable and safe for your young climbers.
No wooden dowels on swing set ladders.
Wooden dowels cost far less than a pipe, but they crack and split. Rainbow Play Systems swing sets feature sturdy, vinyl-coated or powder-coated steel pipe.
Avoid vertical climbing swing set features.
You wouldn't prop a ladder vertically on your house to safely get to your roof, you lean it at an angle for better stability and footing. The same principle applies to climbing features for swing sets. Rainbow's swing set climbing ladders are angled for easier, safer climbing.
Top-heavy swing sets are a safety hazard.
Many swing set companies create higher platforms for longer slides resulting in a top-heavy structure. Rainbow Play Systems applies basic geometric rules to our designs for safer swing sets. All Rainbow swing sets are built on a wide base design and the equilateral triangle; the deck height never exceeds the width of the base of the fort.
Avoid non-expandable swing sets.
Rainbow swing sets are modular and expandable for a "grow-into" rather than a "grow-out-of" design. With hundreds of accessories and options, a Rainbow Play Systems swing set is the only swing set your children will need throughout their childhood.
This sounds simple enough, but many swing set catalog photographs are deceiving. It is very hard to judge swing set size by a photograph alone. Rainbow Play Systems swing sets are HUGE! We invite you to visit our factory showroom to see—and play on—our swing sets in person. Don't buy a small set that your children will outgrow in a few years.
Make sure you know which options are included.
Many swing set catalogs show photographs of loaded swing sets. Be sure the price includes all of the swing set features shown in the photo. Be cautious of "shown with options" disclaimers.
If shopping for a lumberyard swing set kit, consider design options and your time.
Consider how much time you will spend sorting through lumberyard bins, cutting and drilling the lumber, pounding the nails and, in some cases, digging holes in the ground and pouring concrete. Also, consider the overall design of the swing set and how many play activities it includes. If you do purchase a lumberyard kit, clarify assembly needs. Watch out for instructions that say 4 to 8 hours of assembly time as oftentimes it takes a typical person closer to 12 to 16 hours. Also, be sure to clarify all the tools needed and whether the swing set is adjustable for unlevel yards.
If you are shopping for a toy store swing set, inspect it first.
Ask to inspect the swing set first. Most toy stores only display a photo of the swing set, along with a small sample of the wood. It is very hard to judge the size and stability of a toy store swing set by simply looking at a photograph.
If you are shopping online, read the fine print.
Be sure to read the fine print and remember it is very difficult to make a sound decision based on a small photo. We recommend you try to inspect each swing set brand you are considering to check the durability and safety features for yourself.
Swing Set Safety Is Our #1 Priority
Rainbow Play Systems is one of the trusted leaders in wooden swing sets because of our commitment to quality and safety. With Rainbow Play Systems swing sets, you can rest assured that every safety consideration has been tested, evaluated and tested again before ever reaching the finished swing set.
We choose only the finest materials for our swing sets. Our entire line is constructed with 100% Cedar lumbar, commercial-grade hardware, dual-bolt construction, heavy-gauge dipped safety chains, angled safety ladders, one-inch thick rope and interlocking notched-beam construction. Our massive solid-beam structures are held in place with recessed hardware and safety caps, and all our play surfaces are fastener-free.
Our imported swing sets are made with 100% solid Imported Cedar also known as Chinese Fir or scientifically named Cunninghamia Lanceolata. Rainbow will not use any glued timber in our imported play equipment. Rainbow's use of solid timbers in key structural areas (Main Support Members, Swing Beams and Swing Beam Support Legs) can assure you that NO safety, or quality is compromised in our imported sets.
Our swing sets are designed to last a lifetime, while giving your child the wishes-come-true place to run, jump, and play to their heart desires. Our history, safety features, and best-in-the-industry warranty are second to none.
We know you're a parent whose number one priority is your child's safety. You'll be happy to learn that at Rainbow, that's our priority too!
We've even developed an exclusive line of extensions and specially designed swing set accessories for unlevel yards.
"I want to thank you for all of your help in making Jason's wish complete with both the nameplate and the flag for his much appreciated Castle! Jason has leukemia, and, of all the wishes Jason could have…he wished for a Castle."
Sharon J., Wish Coordinator
"We absolutely love our Rainbow! It has been a quality investment that is creating a lifetime of memories for our entire family."
John & Jennifer G. , Appleton, WI
"I shopped around and saw lots of look-alikes but nothing of the same quality. You're kind of like the Cadillac of the swing set industry. Some people get fooled and confused. There is no substitute for a Rainbow."
"We were searching for the perfect play system for our family. Once we viewed the Rainbow Systems there was no question – within weeks our boys had their very own "Sunshine Castle"! Every day they play on the swing set brings a new adventure! We feel at ease because we know the "Rainbow" name means quality and safety."
Maureen & Jeff D. , Sioux Falls, SD
"We have had our Rainbow swing set since 1997. Our children, who are now 14 through 2 years of age, love to play with our Rainbow in one form or another. We know that our children's fond childhood memories will include 'playing at the swing set'!"
"A week has gone by since our Rainbow Play System was installed and we just have to say THANK YOU! Roy Brock and his team of installers were the utmost professionals during installation. Roy and his team answered questions patiently and didn't mind anxious parents watching periodically. These three did not take one break during the entire installation!"
"We feel we've got a great product that will last for years at a great price. Thank You!!"
"I am highly impressed with the attention to detail regarding safety and strength. I am a mechanical engineer and appreciate these features."
"My kids feel safe playing on it. They get hours of fun along with some much needed exercise! That makes my wife and I feel great. Thanks!"
"We just wanted you to know how satisfied we were with the safe, sturdy construction, the excellent speedy installation and the professional and courteous service by you and your team."
"Thank You so much for making a great product that get's my kids away from their tv & video games. The time they spend outside playing on their Carnival is very rewarding!"
"The safety features are what make the Rainbow Play Systems special. I'm so happy knowing that my kids have a safe place to play."
"I like to read about each system because I want to choose a really good one for my children. They're worth it. Thanks!"
"These guys did a great job and worked in muddy and wet conditions, but stuck with it until they finished."
"Guys were very quick and courteous; I appreciate their willingness to work with me on placement of the system. Great Team!"
"We have not seen any other units that live up to Rainbow's standards…We truly feel that this was one of our best purchases ever."
"Our sons (ages 16 & 20) outgrew their Rainbow swing set long ago, but not before it provided them and the neighbor kids with years of fun. We've long since dismantled it and sold it to a family with little ones eager to enjoy it for many more years."
"I couldn't believe how sturdy and well made the set is. I was also amazed at how quickly your crew assembled the set and what a great job they did. "
"Shawna, what a great organization you guys have built! Ryan and Mike installed our unit yesterday and it was a pleasure to watch; they are first class professionals as well as personable. But even while chatting, they kept right on working. The product itself is first rate and we are very pleased with the entire process you provided, from order to installation. My first employer out of college was IBM, a company that had a pride similar to the United States Marine Corps in its employees, product, and ethics; one of their motto's was "You can tell a company by the people it keeps". Your company is cut from the same cloth! Your family has done an incredible job and we're grateful we were directed to you. May the Lord bless your efforts so you can continue to be a blessing to others."
"Just wanted to pass it on, that our rainbow structure held up against the 3inch hail…even the canopy. Thank you rainbow for such good quality. "
"Dear Maricela – Just a short line to express my gratitude, for the great customer service the diligence and the kindest during the process so far. This is making me recommend even more friends to The Rainbow play set."
Many thanks & Kind Regards ~M