Our exclusive swing beam design is engineered with top of the line structural integrity and built to last a lifetime. Our designs our built with added support systems that make it one of the most sturdy swing set swing beam design structures you can buy for your family.
These support systems include: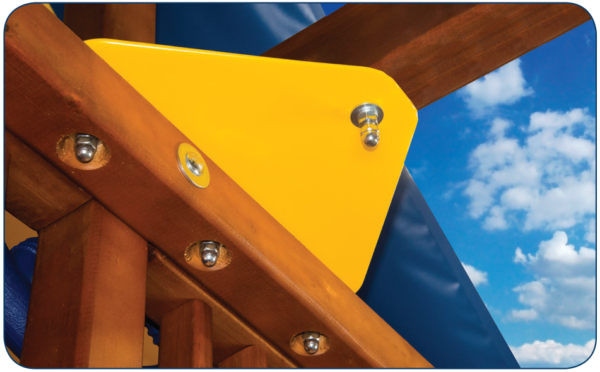 Super Duty Swing Beam Mounting Plate
Utilizing four 1/2″ carriage bolts to secure the swing beam to the base structure creates an ultra-strong and ultra-stable THRU-BOLTED swing beam connection point. The Mounting Plate is heavy gauge steel.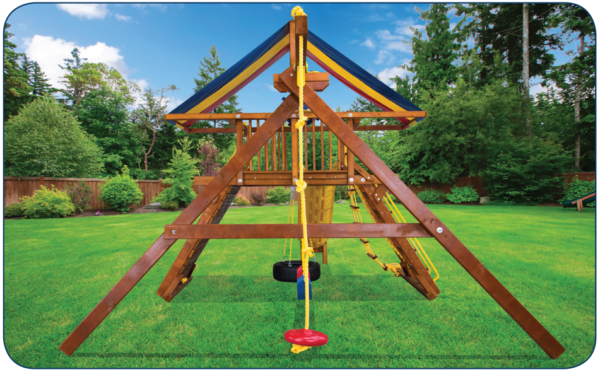 Equilateral Triangle A-Frame System for Maximum Stability
Our wide stance equilateral triangle A-Frame design is engineered based on the unparalleled stability of our swing beam support legs creating an equilateral triangle.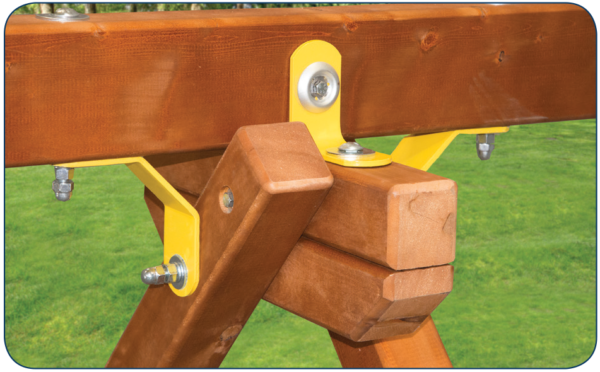 Exclusive Triple Bracket System
Another Rainbow original design that creates THREE connection points, is adjustable to accommodate any unlevel ground and has a proven track record being utilized on Rainbow swing beams for over 3 decades.
Do you have an unlevel yard?
We also provide the widest selection of A-Frame solutions for unlevel yards.
Extended A-Frame Leg for an unlevel yard.
Extended A-Frame Leg for an unlevel yard.
Double long Extended A-Frame Leg for an extremely unlevel yard.
Two Extended A-Frame Legs for an unlevel yard that slopes away from main structure.