Skeletons, Spooks, and Swing Sets OH MY!
Halloween is in the air and adorable little characters will stroll the sidewalks looking for treats. Want to make sure you and your family have a fun and safe Halloween? Here are some great safety tips to follow this season:
Trick or treat in a small group.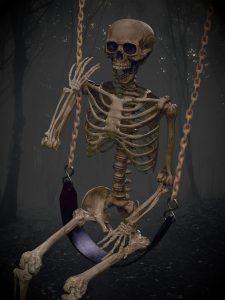 Routes should be planned and agreed upon with an adult.
If someone invites you in, DO NOT go inside.
Cross the street at an intersection with lights or crosswalks.
Know the neighborhood where you plan to trick or treat.
Only visit well-lit houses with a porch light on.
Remember to bring your cell phone.
Tripping can be a hazard, so make sure your costume fits you correctly.
Reflective clothing, glow sticks or flashlights work well to show drivers where you are.
Examine your candy before eating it.
Always walk on sidewalks or paths.
Tell them Thank You at every house!
Rainbow Play Systems strives to produce the safest wooden swing sets on the market! Like on Halloween night, keep kids safe year round with a Rainbow swing set in your backyard.
Start designing your very own swing set today! Visit your nearest Rainbow Play Systems distributor to get started!